The buzz of the night before meets the cold reality of day

Image: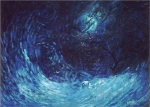 Fri, 10 Jul 2020
Nigel sat up chuckling to himself. The bench was sheltered under a willow tree beside the duck pond. His faded denim jacket rolled up tightly had been a pillow. It would have been LOL hysterical if not for the ringing in his ears and his mouth tasting like a cat's litter tray. The early morning sun seared his retinas and droplets of rain pattered off the willow's branches onto his tired-looking dreads. The droplets clung to them like shiny little beads. With a groan, Nigel brought himself into the upright position, every muscle and sinew aching. He unfurled the jacket. It was festooned with patches and a myriad pin badges of his favourite band; Deadmanz Razor. His left arm was an inked up sleeve in homage to all things satanic. His backpiece a faithful facsimile of the Razor's first album: 'Deadmanz Walking'. The Merch Tee was stuck to him, it could have been sweat, blood or the rain, he wasn't sure.
A decade in the wilderness, hints of a reunion, teasers on social media then the come-back tour was announced. Nigel's girlfriend, Monika had surprised him with a ticket for his birthday. Six months had passed waiting for last night. Nigel chuckled again to himself. Every lyric of every song had been belted out raw by him. Then he remembered the mosh-pit.
Fuck.
He patted down the jacket.
His mobile was gone.
His wallet was gone.
Fuckitanyway.
It was at that point he released his feet were wet.
Looking down, whatever feelgood vibe Nigel had had completely evaporated. His fire engine red Lebron Seventeen's were missing. Gone. His toes wiggled through the saturated sports socks. He closed his eyes and tried to piece together last night's events.
The gig: kissed Monika goodbye, got the tram to the city centre.
Grabbed a burger – inhaled it.
Went to the pub beside the venue. It was crammed to the exits with leather, denim and various hairstyles of Generation X; most favouring shaved heads and Methuselah beards. There was enough ink in the tattoos to keep a printing press on continental shift – though the glaringly obvious was that there were no women at the bar.
Deadmanz Razor were an acquired taste.
So far so good.
Now at point 4, things get hazy, not too hazy mind that he recalled handing his ticket to the security at the door. He was frisked for alcohol and other substances, though, looking around, the only chemicals this crowd would ingest was cholesterol medication or insulin shots.
From point 5 to now, here on his park bench he had only fragments; he did remember a couple of JDs at the venue's bar that had cost a fortune. Then paying €15 for the tour programme (he could add this to his wallet and phone as AWOL) and then into the venue.
He remembered the stage, two enormous cut-throat razors framing the stage. A lighting rig that fanned out above the proscenium arch over the stage and the hi-res screen behind the drum riser.
No support band, just the main event and ten years of material to perform.
Swept up in the collective testosterone euphoria, Nigel was pushed, jostled, and eventually consumed in the maw of the mosh-pit. In the crush, it became a gladiatorial battle for survival.
            Nigel though small in stature was tough. He battled, dodged, kicked, and punched to the frenzied backdrop of death metal. Then things got hazy. The last thing he really remembered was being tossed up into the air and propelled to the back of the auditorium by a sea of hands like a piece of luggage on an airport carousel.
            It was probably on the journey to being tipped head first beside the sound desk that he had become detached from his Lebrons.
            He could not believe it.
A new fear gripped him on that lonely early morning park bench. Patting down his hips and thighs, he was thankful his urban combat pants were still on him.
He closed his eyes. The park was beginning to fill up. Mothers walked their children to school or pushed them to Montessori. One or two pointed at him, "a silly little man with a silly little haircut," one girl had observed.
"Don't look – dirty," replied the mother.
He tried to wave, but his wrist wasn't working too well, perhaps he had slept on it too long.
He sighed.
Cards could be cancelled; a new phone was easy to get. But how was he going to explain a missing pair of €200.00 runners to Monika?
Still, he got to see Deadmanz Razor – it was all utterly worth the pain.
He got up and staggered a little bit. He probably had a concussion or a broken neck. As he walked, he skirted the pond in the park.
And tried to ignore the laughing ducks.