The Gypsy Girl and the Accountant's Brother (1 of 5)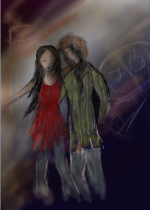 Sat, 05 Jan 2019
He saw her in the field, with the grass high, the sun rising, the dew hanging like diamonds.  She was barefoot and in deep crimson, her black hair bundled on her head and her lips red.  She was standing, gazing up into gilded clouds, with a look on her face that was part wonder and part a very practical amusement.  There was a light in her eyes, and a smile in the corner of her mouth.
He thought she was the most beautiful thing he'd ever seen.
But he thought in almost the same second that she was toweringly out of his league, and that he still had papers to deliver, and that he'd miss his first class if he didn't get going.
He didn't know then that this was the second time he'd seen her.
#
He'd have cause not to remember.  There had been nearly ten years between that moment and this.  They'd both been ten.  The carnival had been coming into town for decades, but it was the first time Simon had ever been there.  He'd been told by other children in his class that this was the place to be, and so he'd pestered his father, pleaded with his mother, until they'd agreed that he could go.  As long as he stayed close to his brother, as long as they were home by dark, as long as he didn't spend all his money, or lose anything, or get into any trouble.
"And don't be a pest," Dirk – his brother – warned him.  "I'll leave you behind if you start annoying me."
It was worth it – taking Dirk's crap – to be able to go. To be all around the noise and colour, the smells, the smoke, the constant movement.  The crowds alone were exciting.  But there were stalls full of treasures, and there were games, there were hotdogs and toffee-apples, candy-floss, chips, doughnuts.  Rides.  Singers.  Stilt-walkers in massive, winged costumes.  He didn't think he'd ever been so impressed with anything.
Then he saw her, telling fortunes, dealing tarot.
A girl his own age, but so unlike him; her charcoal hair in ribbons, her eyes painted, an expression of flowing peace on her face.  She was dressed in the curling, coloured fashions of gypsy types, had bare feet and a light scarf twisted around her neck.  She looked as if a part of her was centuries old.
"Tell ya fortune?"  She said as he passed.
"How much?"
"Two dollars."
He glanced at Dirk.
"Go.  I'm off to take a piss.  Don't bugger off before I get back."
She gestured at a seat – a chunk out of a sturdy tree, still with it's bark and twigs clinging to it – and turned the cards over.  Her eyes never left him.
"What does it say?"
She was puzzled.
"What is it?"
"I'm going to marry you."
"Huh?"
"In the future.  Sometime.  I'm going to marry you."
He shook his head, "That's dumb."
"The cards say it.  Somehow.  It's going to happen."
"What say I don't like you?"  And he was starting to get the feeling that might be so.
"Then you'll ask me for some other reason."
"Tell me a real fortune."
The girl shook her head.  "The cards say what they say."
He thought about asking for his money back but he couldn't quite work up the courage.
#
Dirk grew up tough but smart.  He was a good four years older than Simon, but often seemed even older.  He got into fights.  He drank.  But he also excelled in school.  When he told his parents he was going to university to do an accounting degree, there was pleasure and congratulations and pats on the back all round.
Simon – who remembered the sharp words, the slaps from his brother's hand – wasn't sure he felt anything.  Dirk was staying in town, he wasn't going away anywhere, so there was no respite from his sniping, or his fits of aggression, no respite from the never-ending knowledge that Dirk didn't like him, considered him an embarrassment, and only tolerated his presence at all because they were family.
He supposed it was something that Dirk would be occupied, that he'd have things to do and too much to think about to pay much attention to whether or not Simon was irritating him.  And he loved his brother in spite of everything, so he praised and congratulated along his parents, aunts and uncles.  He wondered if he should do something like that too.
Dirk said, "I doubt it."
"Why?"
"You're hardly at school.  And you don't pay attention when you're there.  You didn't grow on the bushiest part of the family tree, did you?"
Maybe Dirk had inherited the smart genes, along with the tall ones, and decent looks, and brash courage.  Maybe Simon had only inherited some recessive awkwardness and a flickering attention span; and maybe he didn't spend his allotted time at school, but he had almost no friends there, little interest in classes, and he saw no faith in anybody around him that he'd amount to anything.
That was probably the very reason he should get a higher education. 
The road there.  That was another thing.
#
But four years change a kid.  They change him into something approaching a man.
He still didn't have the slightest interest in economics or accounting, but he'd learned to appreciate history, music, literature.  He'd learnt to appreciate the people, the faces out there.  He discovered that he wanted to be a citizen of the world, that he wanted to be part of something.  He didn't know what it was, not yet, but he figured that would come to him at the right time.  He might travel.  He might paint.  He might sink his teeth into some grand political cause and change the world.
As Dirk graduated, Simon enrolled.
And as he completed his paper run before heading off to his first lecture of the morning, he saw the carnival setting up, and he saw the gypsy girl standing there in the grass.  And he felt… new.
He walked onwards, humming a little to himself, picturing her in his head, and wondering what she might be like as a person, what she might taste like as a kiss.  He shook his head at himself for his ridiculousness, and focused his mind on the day ahead.
And it could have ended there.  Because fates bubble up and burst – unspent destinies – every minute of every day.  Futures that could have been lived go up in smoke, unseen and un-mourned.  His could have been just one of those, if he hadn't decided to go out that night, if he hadn't lost track of the guys he was with, if he hadn't just really needed to use the toilet and walked into the nearest club to do so.
Alone, in amongst the swirling lights and the almost-painful beat, he saw her there, dancing in amongst the crowd.  Even in this light, he recognised her – the sooty-black hair, her splendid eyes – and was enchanted by the way she moved, the way her entire form seemed to flow endlessly from head to toe, undulating like a stream across a bed of rocks.  He found himself unable to stop looking at her.
She noticed.
She came over to him, all tassels and hints of glitter over a faded pair of jeans.  She swayed on up to his side, leaning against the wall, her black hair a dense torrent, her eyes catching orange lights from the ceiling.  "You like what you see?"
"Huh?"
She leaned casually, unabashed, enjoying the unease she stirred up in him.  "I saw you watching me."
"Sorry."
"No.  I don't mind that you did that.  I just wonder why?"
"You're…" but 'beautiful' didn't seem to cut it, didn't seem to describe her fully, 'sexy,' 'enchanting,' 'radiant,' were too much, and at the same time woefully too little.  "I'm sorry," he said again.
"It's all right.  You want a drink?"
"Sure."
She paid.  It should have made him uncomfortable, made him feel like he had to offer to buy the drink; but she had a way about her that made all that crap into all the crap that it was.
"There," she said, "That's more like it."
They walked out into the night, because the noise of the bar was obliterating any proper attempts at conversation.
"I'm Jodie," she said.
"Simon."
"You look like… a student."
"Well, yes… I'm not sure what gives it away."
"Me either.  Something just does."
"I'm like an open book to you."
Jodie shrugged.  "I just have it, don't I?  I get people."
"That's handy."
"It's probably the most important skill you could have.  Almost like a super power really.  I guess you'd want to be more like someone who was strong, or who could fly or something.  Or invisible."
He blurted: "I'm invisible enough."
And she slid her hand into his, so smoothly, as if their hands had been meant to be joined that way.  "I don't find you invisible. I saw you through a crowd."
"I was staring at you," and he felt himself blush.  He cursed his blundering mouth.
But she just said, "A lot of people were staring."
"You're quite the shrinking violet, aren't you?"
"I don't have the patience to bullshit.  I'll put my hand up to that."
"Good.  Good.  I'm up to my ears in bullshit," he had, after all, had a few drinks before finding himself here, "So what's your story then, you got me all figured out?"
She skipped a little ahead, turning to face him head on.  "Figure me out."
"I don't have your talent."
"Use your own then. I know you've got one."
"You're with the circus."
"See!"
"I only know because I saw you a few days ago, on the field, setting up."
"Come on," she said, "Let me show you."
#
He'd imagined for a heartbeat that it was her body she wanted to show him, and he was up for that, no question; but it was the fairground she led him to, graveyard-still in the night, denuded off all its lights and activity.  It was eerie this way, the big rides looking like the bones of massive creatures.
"This is home," she said.
"You move around then?"
"Yeah.  Always have."
"And you have a trick?  Tell me you're a contortionist."
"I have a bunch of stuff, I sing, I mime, I tell fortunes, read palms, sell cupcakes sometimes."
"It sounds all right."
She spun, letting her hair and her loose, hippy shirt twirl around her.  "It is.  But who knows: I could be missing out on a whole other life."
"Who isn't?"
"Exactly."
What was it about her that just drew these things out of him?  "I'm really into you.  Really.  I don't even know how it's happening?  Is magic another thing you do?"
She laughed.  "Just these" grabbing big handfuls of her tits and jiggling them up and down, "these things do magic.  At least on boy and lesbians."
"You're doing this on purpose."
"Only because I want you to kiss me."
It was easy.  He just stepped in and they melted around each other.  They sank into the grass like melting wax, and for a length of time he didn't think to measure, the world went away and there was just them two.
#
It wouldn't have surprised him never to see her again.  It would have been a moment to treasure in his memory.  To hold onto the length of an unremarkable life, but instead she came and found him outside one of his classes.
"How…?"
"We talked a lot."
"About my timetable."
"Enough for me to figure it out."
"Are you stalking me?"
"Yes."
How could any guy - any young, sheltered, disaffected and very, very ordinary guy - be anything other than infatuated with her?  She was simply everything.  And for her to be standing there, offering herself up to him, actually wanting to spend her time with him – of all people.  The whole thing just beggared belief.  It was the stuff of dreams, it was something to be waking up from.
"So?"  She leaned backwards, sizing him up.
"I won't call the police.  This time."
"I know where to get great doughnuts."
"That's an invitation?"
"Of course, it is.  For doughnuts.  Any other interpretation is just disgusting, and you should feel ashamed of yourself.  Let's go then."
You don't keep up with a girl like this.  Simon figured the best he could do was forever run behind her, trying to step in the glitter she left in her wake.  But if that was the case, he was also profoundly sure that he wanted this, that her coat-tails were better than leading an army.  "Shit, it's like I'm in love."
She laughed heartily.
"How do you keep making me do that? Is it real magic?"
"No, I'm not a witch, I'm not a fairy."
"Well, I don't usually act like this."
"You do now.  So, own it."
"And you're always like this?"
"Always."
"Like all the time?"
"Like all the time."
"I'll hold you to that."
She rose on tiptoes, dropped back down to her heels.  "Go ahead.  I can take it."
They walked.  She told him about the places she'd been, the boys she'd kissed, the men she'd been with.  As if she'd lived both a hundred and only eighteen years.  She asked him to tell her about him.
"It's a boring story."
"Tell it anyway."
A boy growing up with two parents, with two cats, an older brother.  A kind of lonely childhood, out of the limelight, in someone else's shadow.  Dirk when he was mean, Dirk when he was spiteful or just bored, when he struck Simon down with contempt, when he mocked him while all his equally tall, broad, tough friends looked on and laughed.
"I'd like to meet your family."
"Liar."
"No.  Not at all.  Especially your brother."
"So you can stab him through the heart?"
"Never."
"You're sure?"
"Quite sure.  But can I meet them?"
"If you really want to."
"When?"
"When…?  Um.  Soon.  We're not even… I mean we're not are we… going out?"
She gestured all around her: "I'm here.  You're here.  We're out."
"I meant…"
"And I know you did.  And of course we are.  If you'll have me."
"Are you kidding?"  All his Christmases come at once; and all his Easters stacked up on top of them.  "Of course.  Of course, I'll have you," and since he couldn't help himself anyway: "Forever.  For as long as you'll let me."
Picture credit/discredit:  author's own work