The Gypsy Girl and the Accountant's Brother (3 of 5)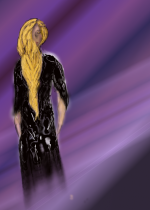 Mon, 07 Jan 2019
And then the Winter Carnival came into town.
Simon was coming down hard from the high of being with Jodie.  He was finding it hard to get up in the morning, get his papers delivered, get to class.  And what was he going to do with these classes anyway?  He wasn't Dirk, he didn't have the drive or the energy to make something out of his life. Not without Jodie, his inspiration.
"God, are you still moping?"  Dirk was leaning over the couch looking down at him.
"I prefer to think of it as napping."
"Seriously?  At four in the afternoon?"
"That is what they call an afternoon nap."
"Get up."
"What?  Why?"
"We're going out."
"Fuck that."
"I can still beat the shit out of you, now get up."
And so they went.  And Simon believed his brother with a whole heart.  He could still beat the shit out of him – maybe he wouldn't, maybe he still would.  But Dirk actually cared enough to bother dragging him out and trying to fix him.  That was something he hadn't entirely known.  A good, weird feeling.
"Where are we going?"
"The Winter Carnival."
"I don't know…"
"I've heard it's actually pretty awesome."
Jodie's competition.  Her… enemies.
"I won't tell your girlfriend."
"Yes, but there's a loyalty factor…" And… and…?
Dirk's laugh came out harsh: "They won't steal your soul."
"What?"
"That's the back-alley rumour isn't it?  Black magic and human sacrifice and whatnot?"
"It is?"
"You really are out of touch."
"And you gossip like an old woman."
"Touché.  But watch your mouth.  And try to look like you're having fun."
The carnival was spread out across three fields.  The grass had been mowed or flattened to accommodate it, and the tents had sprung up – not like weeds or flowers, but like mushrooms and weird toadstools, the tents all leaning toward darkness, swirling with weird patterns, with deepened shades of red.  There was a goth feel throughout, and a cultivated sense of witchery.
A woman with dangling earrings reached out to pluck at Simon's arm, "Read your fortune, boy."
Simon tried to shrug it off.  "No bloody fortune. I can read that from here."
But Dirk paid the woman, and said: "Well, I want to see what's going to become of him."
The woman cast bones.  Tiny chicken bones?  Human knuckles?
Simon felt the eerie music of the place twist in his veins.
Her eyes widened – this glittering, half Asian, time-worn stranger.  She gathered the bones up quickly again in her hands.  "Are you ready for this?"
"Sure."
"I see death."
That must take a genius.
"I see her close.  I see her clinging like a fog.  She's courting you, my boy.  She's casting her shadow."
Simon leaned in.  "Death, from what cause?"
She pursed her lips.  "Violence."
"Whose?"
Her eyes flickered. "Someone close."
"Like right behind me?"  He rolled his eyes at Dirk.
"This one?  There is death in him too."
"Oh?"
"And violence."
"Ah." A shocker there.
"But first unbelievable joy."
Dirk gave a half shrug: "So, my next girlfriend is going to be awesome in bed."
The woman stabbed him with her eyes.  "Fire and honey, lightning mixed with midnight.  Oh, yes, she's going to be more than you've ever imagined.  And she's very, very close."
Simon said, "Here, I thought this was meant to be my fortune."
"Oh, it is.  It is.  It's all tied up in there."
"And that's it?"
"What else?  Beers in front of the telly?  The daily bus ride?  The creep of old age?  You want to know about these?  I didn't think so.  But if you want your money's worth, I'll tell you this: you've already met the woman you're going to marry."
Jodie?  "What's her name?"
The woman shrugged and accompanied the gesture with an ugly laugh.  "How should I know?  What's in a name?  She'd be the same woman by any other name."
"And she'd smell as sweet?"
She snatched at his wrist. "Do you want the hour?  The moment when you die?"
Simon shook his head.
"Good.  Because I could show it to you. I could tell you the full of it.  Be glad I don't."
"She was weird," Dirk said as they walked away.  He didn't seem bothered by the incident.  If he'd met this woman's eyes and seen a vast emptiness in them, if he'd felt a chilling certainty that she meant every word she said and really could look into the future, well, he didn't say anything about it.
Simon just wanted to get off his feet.  "Let's go listen to the band."
#
An hour so later, Dirk went off to find the toilets.  Simon lay back in the grass and felt as if the music was stripping layers off his skin – a tiny and massive pain, exquisite in its fineness, in its infinite patterns.
He only noticed some time later that his brother hadn't returned.
Serve you right if they have kidnapped you and eaten your soul.
It was dark – the blade's edge between afternoon and evening, with the sunset blackening against the horizon – before he figured he'd have to go look for Dirk.  He was hungry by then, so he stopped and got a spicy chicken burger and a coke, before seeking his brother in earnest.
The carnival was still in full swing.  There were braziers being lit, and there were new smells entering the breeze.  Things were supposed to keep thrumming well into the night.  On the right night, he could have stayed here until morning.  But the ensemble was losing its appeal, he felt worn out on all the witchiness, over-saturated in dark side.
He sent a text: Did you fall in or something?
When he found his brother, he was in the arms of a languid, gorgeous woman; with milk-blond hair and dark eyes, dressed in sleek black and with her fine figure already draped across Dirk.
"Oh.  So, you didn't fall in or drop dead or anything."
Dirk said, "And there.  There you have my brother."
Simon nodded to the woman.  "Well, it's nice to meet you.  He lied about everything."
Dirk said, "He was dropped on his head as a baby," and to Simon: "This is Gretchen."
#
Gretchen stuck around.  Simon was mildly surprised.  He'd assumed whatever was going on with her and Dirk was just going to be a wild fling, Dirk would get his fire and honey, and then be on his way.  And Gretchen: she seemed out of his league – she seemed out of any man's league.
But she stayed.
And Dirk did well at his job.  He told the family over dinner that he'd been praised by his boss, and a client had written a letter endorsing him. He hoped for big things.  And he answered one of Simon's long-time silent prayers.  It was time to move out and get his own place.
"Oh," their mother said, "Can you afford it?"
"Woman," said her husband with impatience, "he's better off than we are.  Give him a few more years and he'll be able to buy and sell us all.  Get a good price for us too."
So, Dirk started flicking through the rentals, selecting a fourth storey apartment in a set of downtown flats.  Even with the proud salary Dirk had alerted them all to when he got his job, it seemed like a swankier option than Dirk's budget.
Dirk shrugged it off.  "I'm young.  Savings are for later."
He'd taken to carrying a picture of Gretchen in his wallet, her buttery hair flowing down over her shoulder, a pink-lipped smile on her face.  And he was dressed in high fashions, looking smart, looking almost foreign.
"God, you really like her," Simon realised.
"Of course, I do.  She's bloody amazing."
"You don't bring her round much."
"Well, you lot…"
"Thanks a bunch."
"She's not a meet-the-parents sort of a girl, is she?  And in any case, you have met her.  You like her, don't you?"
Did he?  She was a woman of few words.  She had the right to be.  Her presence was so unsettling, her dominance of a room or a dinner table.  She only had to make a few silken, viscous comments in just the right moments.  Her voice was honeyed marble, it was sweetened brandy, a lingering piano note.  It wasn't hard to see why Dirk was infatuated.  But did he – Simon – like her?  He had an uneasy feeling that he didn't.  That there was something of a snake about her – too smooth, too silken.  Almost holographic in the lightness of her tread.
But since he couldn't say any of that to Dirk, he said, "Of course, I like her."
"Good. Because she's staying around."
Simon was startled.  Because he'd heard Dirk tell him how Gretchen was with the Winter Carnival.  In some sort of a managerial role.  The carnival would pack up and leave and surely she'd go with them?
"Not this year," Dirk sounded smug.
"You mean she's staying for you?"
"I mean that, exactly."
"Wow."
"From humble roots, eh?"
"You just keep landing on your feet."
"I train hard.  You don't see it, but I do."
Well, it paid off.  Simon had to admit.  Had to try not to begrudge it.  Dirk sure sailed through life.  But he'd worked for his job, and he'd worked at his job.  And no doubt he'd put some effort into securing Gretchen's attention.  So if it all bore fruit…
And Simon: he counted the days.  He counted the days until summer.
And when the berries started appearing in supermarkets, and the posters started appearing around town, he headed down to the fields and waited there under a tree. He did this in all his spare moments for over a week, until finally the trucks came in.  Men in bright gear and woman in sparkle unloaded their stalls and rides.  The Ferris Wheel was brought in in pieces and assembled.  Simon kept his eyes open, scanning all the faces, just waiting for her.  Just waiting to see her face in one of the windows.
When he saw her, she'd already dismounted whatever truck she came in.  Walking through the grass in a blue dress, with her hair loose, her feet as ever bare, tucking a wisp of hair behind her ear as she looked into the distance.
He called out to her.
She ran to meet him.
She threw herself into his arms and he spun her around.
Jodie was grinning.  She took his face in her hands.  "I did it.  I kept my promise. I waited for you this whole time.  This whole time."
"I just hope I'm worth the wait."
"Oh, you will be."
"No pressure then."
She kissed.  Full-throated and no inhibitions.  "Leave all that to me."
#
Simon's mother insisted on taking them out for Chinese. All six.  "This girl, and that girl, either one of them could end up as family."
"Mum.  Don't say that at dinner."
"You think I'll embarrass you.  Oh.  That's adorable."
"Mum…"
"I might just rock up in curlers and bedroom slippers.  That ought to do it."
So the six of them.  Mum and Dad.  Gretchen and Dirk.  Him and Jodie.
But Simon was taken aback by Jodie's reaction when she set eyes on the other woman.  There was a visible jolt in her as she saw Gretchen get out of Dirk's new car.  Gretchen: looking as impeccable as ever, in a black dress, with a red necklace, red shoes.  It would have been understandable if even a beauty like Jodie felt insecure.
Except that that wasn't it.  The look that passed between the two of them, it was something more like hatred.  There was a hint of fear.  As the family sat around the table, passing Asian food around in curved bowls, there was an undercurrent of fury between these two women.  There was a look in Jodie's eyes that she blasted at Gretchen: a warning.
She said at one point: "I didn't think you guys were still in town."
Gretchen shrugged.  "We're not.  I'm staying on."
"Nobody minds?"
"It doesn't matter. I call my own shots."
"Good for you," Simon's mother said at once.
Jodie just shook her head, dropping her eyes.
#
In a moment alone Simon whispered at her: "What is it?"
"Nothing."
"One hell of a nothing."
"She really… shouldn't.  You can't trust her, Simon."
"Yeah?  Well, Dirk's in love with her."
"She loves him?"
"I suppose so."
"Well, it's stupid," Jodie said crossly, "and it was stupid of the Winters to let this happen."
When Gretchen excused herself to the ladies' room, Jodie got up at once to follow her.  Simon glanced at Dirk and saw Dirk meet his eyes, there was a look of conspiracy there, a lascivious glint in his eye.
They're not going in there to make out.
But what were they going to do?  Simon could almost imagine a knifing.  He got up as well, on impulse, and followed them.  He saw Jodie pull Gretchen aside before she reached the door, moving quickly over to a secluded corner.  Simon got as close as he could.
He heard Jodie speaking: "…too dangerous.  You know it is."
"We don't live in the dark ages anymore."
"Some things are permanent.  The whole Summer Carnival is here.  Can't you feel it?"
Gretchen rubbed her arm, "I can."
"Like a fiery itch?  Like one you can't scratch?"
"What of it?"
"It'll only get worse.  For everybody.  You and us."
"I can handle it."
"No.  You can't.  And you should go.  Get out of town."
"Huh.  Or you could take your little fairy circus, and all of you could leave.  If you care so much about the consequences."
"The consequences.  Those consequences.  You'll hurt him Gretchen."
She turned a chilly gaze on Jodie: "You underestimate me."
And Simon saw it.  He pretended to himself afterwards that he hadn't.  But he saw the ways Gretchen's eyes darkened – not figuratively, but literally, as if a cloud had passed over them, and he saw a glitter in them, a forked flicker of red.  And he saw the very same in Jodie, a mirror of her.  He told himself later that it had just been the reflection of some light or other. 
He told himself that.
But he didn't believe it.
Picture credit/discredit: author's own work