Hard to Say Goodbye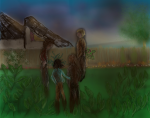 Fri, 04 Jan 2019
It's hard to say goodbye.
You tell yourself you're prepared, you're committed.  But here, now, in the garden by the fence, I'm not.
Rhonda stands beside me, she slides her hand into mine.  She rests her cheek on my shoulder, full of more encouragement than I deserve. 
There's a small hole, between the rosemary and the rhododendron.  I hesitate: this is a fine-ass bottle of Kentucky bourbon.  It's nearly half full.  I don't want to do this.
My brother, Dan, steps back, spade in hand.  "Okay," he says.
And that's my cue.  And I have to do this. I've promised.  And God knows, Rhonda has put up with enough shit over the last few years.  I don't know why I have her. I don't know why she hasn't marched out on me years ago, telling me what a selfish, worthless drunk I am.  Because I am.  And my drinking's cost her money, sleep, friends.  It's put her off-side with her family more than once.
It was Dan who said, "Stop.  Now.  Before you lose everything you really care about."
I don't know if he knows how I feel about the bottle – maybe knows, but doesn't know – how my hands are shaking lowering into its little makeshift grave.  These next few weeks are going to be hard.  We'll be there with you all the way.  Meetings, distractions, whatever you need.  We love you.  We all do.  It's humbling: being loved when you know you don't deserve to be.
This ceremony may be ridiculous.  Absolutely daft.  But there's all kinds of closure, and I guess I need this kind.  I stand with my hands clasped, while Dan covers the bottle – beautiful amber-backed glass – and pats the earth down.  We'll plant something.  But for now, a little twine-tied cross, the word "Jack" written over it in marker pen.  Some people might laugh, but it isn't a joke; it's a way forward.
One day someone'll buy this house, maybe the cross is still there, and they think Jack is some household pet, loved for years, laid to rest amongst the leaves and bright flowers.  Maybe in a thousand years, some archaeologist will come across it, puzzled by whatever strange custom this is.  Maybe he'll glance both ways, check that nobody's watching, before he takes a quick drink.
Picture credit/discredit:  author's own work