Jovial Johnno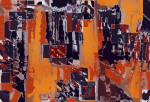 Wed, 16 Dec 2020
1 likes
At least that's what they called him.
Always with a smiling face,
Always the teeth.
An endless, upturned crescent,
A laugh that carried, blocks away,
Rumbling round corners, flowing along the low length of side-streets,
Fluttering in the air; a cat's purr, an idling engine,
A star to guide by.
Until the day the police came, and the crescent wavered,
It faltered; a deflating balloon.
- Mr Crawford? –
- Yes –
- Is your wife home, Mr Crawford? –
- huh? –
- Mrs Crawford, is she home? –
- I think so. Why though? What is this about –
- We just need to speak to her Mr Crawford. –
The crescent inverted.
The engine stalled.
He talks to the lawyers, trying to understand, trying to pin down the enormity.
- But murder? –
- Yes Mr Crawford –
- Sylvia's nothing like that –
From behind bars, behind glass;
The way her bright curls have curdled,
From butter to old milk, pee stains, rotting straw.
He tries not to think like that.
Tries to still love.
- No of course not, no, never, they've got it all wrong –
And he has to leave her behind when visiting hours are over.
A long drive home, knowing all the way: he doesn't believe her.
The smile is long gone.
Well, they don't call him anything these days.
They don't have to, since nobody calls him.
Picture credit/discredit: author's own work