A Letter to Anybody Out There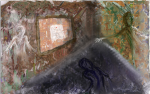 Sat, 13 Apr 2019
1 likes
To Whom it May Concern,
To Anyone who finds these words,
It's been six days since we've been able to get a signal on the radio.  We used to tune into the government, instructions about where to go or what to do.  And then: stay inside, stay inside; but there are no walls that make any difference.  And then static.  And then silence.  Silence is what it's been for six days now.
The phones are all down – landlines and cell - so we don't really know what's going on much further afield.
We tried to reach Sharon's mother, out over the motorway, but there are cars blocking both lanes before Henkonby.  They got through the road, came up from under it – or at least it looked that way.  They got into a few of the cars, split them open from the inside, and spreading through flesh and metal – nothing holds them back.  When we got there the cars were all shredded, and the insides were painted with blood.  It was eerily like jungle gyms – but really, they'd taken everything apart – a forest of sharp edges blocking our way.  There's no escape by vehicle that way.  There were some people there who were going to try on foot.  We could maybe have gone with them, but I don't know if I like their chances.
Here's the thing, you see: nothing can stop them.  If you want to survive, you have to understand.  These things can walk through walls, they can slide through them as if they were less than water.  Chameleon perfect. You won't see them until its too late.  Watch the wallpaper, if you see an asymmetrical note in an otherwise orderly pattern, if you see anything that droops or twists, don't second-guess yourself, just know that it's them. If you see them, the building is already infested.  It's too late.  Get out of there if you can.
Remember these things:
They're drawn to structures, to man-made objects, to stone, wood, metal.  Dead things.  Living earth and thick grass are your best bet.  A living tree is good, but a dead or very old one, and you'll find them huddled inside it.
They don't like salt.  You can keep them back with it a little while.  But not for long.
Head east.  If they can choose, they seem to head west.
They're more active at night.  And they're fast.
Beware the mirrors.  Your reflection is their way in.
As for us: me, Sharon, little Dougie.  We've made a decision.  We're going to try and reach the sea.  The salt water might be enough to keep them at bay. Or if we can go into the forest.  Rumour has it there are people gathered there – you have to go on foot, with no large tools or large metal objects.  Back to nature is the only way to survive.
            We're going to leave at dawn.  If you happen to find this letter, you are welcome to the house.  And welcome to anything in it.  There is food in the larder, and in the fridge – although I don't know how long the power will stay on for – and there's blankets in the hallway cupboard, comfortable beds.  There's a shotgun in the basement, which we've loaded with rock salt.  Just in case.  None of them have come here yet, the walls are symmetrical, the carpets and ceilings have yet to be torn up and ruined.  But if you see a face in the wallpaper, it isn't your imagination: that's often how it starts.
Help yourself to anything here.  We'll already have taken all we need.  We're taking the car, heading east out towards Lawyer Bay.  There's petrol left behind in the garage, and oil.  Take what you need.  A machete hanging up on the wall – who knows how lawless things could end up getting?
Wish us luck.  And whoever you might be, I wish you luck as well.
We'll need it.  All of us.
Because God only knows, they're supposed to be fast.
Sincerely,
Alex, the guy who lived here once.
Picture credit/discredit:  author's own work