Lydia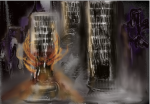 Fri, 22 Mar 2019
He went back into the fire for her.  That's what it comes down to and what haunts me and what presses down on me like sacks of lead.  He went back in there for her.  I tried to stop him.  God only knows I did. I screamed at him, railed at him, flapping my arms, grabbing him, trying to hold him back.  The building was alight, it was wreathed in flames, there was smoke pumping out of it and all the windows were gold-and-orange raging eye sockets – all bleeding lava, all hissing and sparking and gnawing with heat.  This was madness inside him.  I didn't even know then if the cat had made it out.  But Norton, he pushed my hands away from him, he took a breath, he went charging back in there and all for her.
#
And to think this: I admired him at first for it.  For Lydia's book.  We were newly dating, just a month or so into that harrowing, uplifting process; I was feeling my way towards being in love.  I was thinking that this Norton was such as sweet, earnest, uncomplicated creature, thinking that I could see myself with him, could see this extending itself out over time, becoming a something. It felt real.  I was walking a little bit on air.
And Norton told me about Lydia.
I cried.  Just a little.  Because, let's face it, this was one fuck of a sad story.  To have been in love with her, engaged to her, and for this cancer to have burst through all these walls of love and need, to have bulldozed through her, moving so fast, expanding and multiplying until her insides were made of it.  Horrible story.  From happy and engaged to standing at her grave in just three months. Poor Norton.
And I didn't feel threatened by her. I mean, why would I? She was dead after all.  No chance that he was going to be carrying on with her behind my back.  And if he still held a candle for her, it was sweet, it just endeared him to me all the more.  A sensitive soul, full of loyalty and capacity for love. I mean jackpot, right? 
And when he opened her book and he showed it me, I was amazed at the trouble he'd taken, every little memento he'd hoarded and saved, not just valentine's cards and the receipt for their first dinner together, there was everything from chocolate wrappers, to appointment cards, to the name band, sealed in plastic, that she'd worn around her wrist when she went into hospital for doomed, exploratory surgery.  The pamphlet explaining the cancer.  The pamphlet explaining the cancer support group.  The funeral notice, the funeral booklet that detailed her life.  And photos – a little whirlwind romance captured in pixels and smeared indelibly in ink – thick and saturated – and encased in clear laminate.
I sat with the book in my lap.  "Hey, there Lydia.  It's nice to meet you.  Thank you for looking after Norton for me.  I've got him now, for you."
            #
I hadn't.
Sorry, Lydia. Sorry, sorry.
But you were just images, keepsakes.  You were long past being flesh.  And me: all flesh and feelings, all tears and devastation.  Didn't you even think?
#
Well, the cat came back.  Turns out she'd either been out on the midnight prowl, or she'd smelt the smoke and felt the danger and gotten herself out.  And feeling the heat, having a sense of self-preservation, she'd stayed out.
Not you, though, Norton.
You had to go charging back in there.
They brought him out, once it was all over, once the fire was quenched and the fourth and fifth floors were all soot and ash and jagged, empty window frames.  He was found in a stairwell, sooty, smudged, asphyxiated.  I was there, standing amongst the crowd, fingers stuffed in my mouth when they brought him out.  Shirt recognised long before his face.
Norton.  My Norton.
Yes – making this official – yes, this is my boyfriend… my partner… my lover.  This is him.  Box ticked – now please, please just let me go home.
#
Staying up watching a movie.  Forget which one.
It wasn't long enough.  Because the right movie could have made all the difference.  What if we'd decided to watch Titanic or something, if we'd ploughed through the three hobbit movies until sometime into the first kiss of dawn?  Instead, lights out, in bed, eleven or shortly after.  And waking to the wrong colour of light, to the smell of smoke, to the blare of alarms.
"Is this for real?"
"Get up.  Come on. I can smell smoke."
"Up or down?"
"I think down.  No, not that way, the stairs might be blocked."  Fire escape, hanging outside the lounge.  Rusty and a little bit rickety, with other oversized, lumbering creatures making their way down to a lit pavement.  Fire engines.  Photographers.
"The book!" He cried.
"What?"
"Lydia's album."
"I'm sorry." Not thinking.  Not even imagining…
"I'll be right back."
"What?!"
"It's all right.  The fire.  It's all on the south side."
Not even the cat; the book.
And south moved swiftly to north, breaking windows, like lights being turned on.  My fingers all stuffed in my mouth – oh, what've you done, Norton, what've you done?
#
She's ash.
Her beautiful album is ash.
So's he.
A charming service. A sea of us black-clad – he had so many friends.  And the solemn young minister intoning his worth and beauty, stirring memories, saying what he should. He talks about her, just briefly.  That his love for his dearly lost Lydia had planted this reckless moment into his lifeline, that he'd risked his life – gambled and lost it – to try to save her memory.  He will live on in the hearts of those who loved him, and she will live on on his coat-tails, immortalised by his stupidity (my wording, the preacher was kinder).
Her family were amongst the mourners.
"We're so glad he found you, after our Lydia passed away.  So glad that there was someone with him he loved at the end."
At the end: reached out for her, trying to save a scrap of her. I wonder: was I on his mind at all? In the last aching moments, gasping, crawling: was I on his mind at all?  And is he with her in heaven, nestled in some sweet little gingerbread cottage, her soothing arms around him.  No room for a third wheel coming along later.  A granny flat out the back?  A celestial residence down the road?
I sit in the window, holding the cat, my cheek buried in her long fur.  She forgives the tears that make it so wet.  She twists her head to lick the salt off my face.  Cars go by, up and down the road.  I lay the funeral booklet in the shoebox with his name on, with his newspaper article, his favourite red cap, his favourite fingerless gloves.  After dark they slot into a little space above a wardrobe, while the cars keep sliding past, shifting from yellow into orange into red against the curtains.
One day, someday, I'll open that box and remember.  Maybe one day, someday, there'll be somebody beside me when I do.
Picture credit/discredit: author's own work