Me and Billy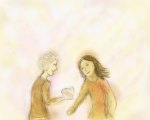 Sat, 11 Feb 2017
"Snowdrop?"
"Okay."
He holds up the little paper bag and I take out one of the lollies. It's round and clear, smooth like a marble, with crystallised sugar like ice in the centre. You can buy them at the corner dairy on the way home from school. Me and Billy, if we had any money – if he had, that is – we'd always buy a little bag and eat them as we walked down the road, weaving around the trees, swinging our bags around our knees.
Me and Billy. we're a team. Friends since before either one of us remember – because our mothers were friends, and she'd bring him to our house, and it was the two of us, since babies, playing together, imprinted on each other. I'm eight now, he's on the cusp of nine. Three months older, and smaller – 'boys get bigger later' – with hair nearly white; a soft, uncoloured face; all skin and bones really, all gangly awkwardness.
Mum told me about him. She explained. "It's a kind of cancer," she told me. Cancer. A grown-up word, one that scares grown-ups the way kids might be frightened by a yappy dog, or an aggressive seagull, by noises in the house at night. "Billy's precious to us," she told me, "we might not be able to have him with us forever. He's a gift."
Me and Billy – we have different horizons. He hardly ever talks about doctors and hospitals; he let me rub his head when he lost that pale hair for a while. We talk about school, about birds we might see in the trees, a hedgehog in a gutter, what we were going to do when we grow up. We don't doubt our future.
"Snowdrop?" He says, holding out the bag.
"Okay."
These snowdrops look different, there's light coming from inside them, and the sugar moves around; sometimes slow, like a waking kitten; or sometimes more like a snowstorm – a lantern in the centre, breathing faintly golden light.
They taste different too. They fizzy on our tongues, they make our feet and hands tingle, conjure a well of fluttering heat from the pit of our stomachs. Feels like floating. Don't even think to be scared.
"Come on," Billy wants to race. He never does that.
"I'll win too easy," I protest.
"No you won't."
And suddenly Billy has the strength of a bear, and the speed of a cheetah. He runs and dances, swings from the branches as we race beneath the trees. As we run, the snow starts falling. No ordinary snow, but snow-like-diamonds, all silver inside, and the sky has turned a fierce colour of rose. Where streets and houses were there's just forest, just strange trees we've never seen before. Trees all dusted in snow. Weird moss grows along them, or tiny, blue and gold mushrooms; some open up along their seems to reveal gold and ruby red flesh. Some of them are twisted, curling along the ground in waves, while others grow so tall you can't see the canopy – lost as it is among the clouds.
We run and do cartwheels, we turn in dizzying circles. We lie on the ground to make angels in the crunchy snow. I listen to Billy laughing like I've never heard him laugh before. Snowdrops – the flowers that is – bloom in clumps, along with irises, and violets, and daisies, dandelions, poppies. Along with other flowers I don't recognise.
And a little creature, the size of a small cat, all pink and folded, with a nose like an elephant and red-slit eyes, burrows out of the snow for a few minutes. It sniffs around, makes snuffling noises that echo amongst the trees, and then digs its way back under again.
When we come to Billy's house, the snow has formed a hat on his roof, icicles drip down the pipes. He waves goodbye as he walks up the garden path.
"I'll see you at school," he says.
"Okay."