Possession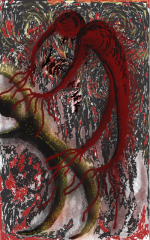 Thu, 07 Jul 2016
I think that she completes me,
Hand in hand,
Hand in blood.
#
She's there in the dark,
Halfway sleeping, halfway flickering.
I run my fingers over her smooth surfaces;
Her silk and cream flesh;
The wildness in her eyes.
#
I lean over to hear her secrets,
To catch the whispers,
As they slip free from her glittering soul.
I press my lips against hers,
Sealing our bargain.
#
Two halves of one entity,
Her white where my grey begins,
Her butter-gold against my saffron orange;
Her light shining into my darkness.
#
I've read in the papers;
They've declared her presumed dead,
Missing.
And I smile, knowing she's home.