Pride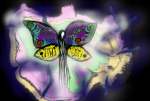 Sun, 11 Jun 2017
Just turn around, just turn around and walk back there.
Just say it.
Just open your mouth, let it out.
Over in a moment.
Burnt once, then healed.
Traffic blunts the edges;
The mixed-up, muddied up sounds of crosswalks, and car alarms,
The cicada-buzz of carbon-copy voices,
The screams and scurries of youth,
The lurching, yawning progress of the downtown buses.
Move then.
Just take the first step. 
Don't even think about it, just run on up there,
Just skip over those rows of marigolds,
Catch up.  Reach out for his wrist;
Manoeuvre yourself in front of him so he has to look.
And just say it.
The traffic becomes the river,
Deeper and deeper with distance,
Until his blue coat is all you can see of him,
The top of his head is like so many heads,
All bobbing along in place.
A car goes by.
A corner reaches out and takes him aside.
You'll never know what it says to him.
Alone.  Feet rooted in pride.
Picture credit/discredit:  author's own work