Through the Doors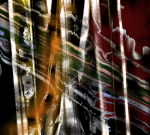 Sun, 16 Jun 2019
There's nothing you can't find when you walk through these doors.
Nothing that doesn't have a price.
You remember you: there was this girl, blond with long plaits, who was maybe nineteen or twenty and looked sixteen. The doors have a way of calling to somebody, attracting their attention, in broad daylight, on a side street she'd never walked along before, and yet… unremarkable, ordinary.
And the doors were huge, and grand, and they were inset with stained glass; and a light stronger than sunlight glared from behind that glass. The light made the glass into fire – fire in all colours.
You don't remember hesitating.
You just remember opening the doors.
When you walked in there were all kinds of people, and a platform, and a railway track. There was a ticket booth and an old man in uniform.
"Where does the train go?" you asked, noticing that his eyes were a little bit orange, and had a twinkle about them, and that there were goldish veins that ran down his cheeks.
"Where would you like it to go?" he asked you.
"I don't understand."
"Choose a destination."
"Well, it can't just go anywhere."
"Buy a ticket. Find out."
In spite of yourself, as if they words are being pulled out of your mouth. "How much?"
"Ten cents. Always ten cents."
"That doesn't make sense."
He laughed uproariously: "Sense. Cents. Oh, very good missy! I'm going to like you, I'm going to like you coming here. We're going to get along."
"Well, I just…"
"It doesn't matter now."
"I don't even know where…"
"Your heart does."
"I don't think…"
"Don't think. Feel."
You don't know if what you did then was feel. You just know that he handed you a ticket, and told you that the next train would be in in five minutes, and that it would be the one.
"Well, I have to get back to-"
"It'll all be waiting. If you ever want it."
The train showed up, it was dead on time, and the doors all opened in balletic unison. The faces you saw inside… And still… with a pounding heart…
And you remember her: that simple blond girl, that innocent so newly hatched from childhood, that girl who knew nothing about anything and imagined a life full of such other things, such simple and wholesome and easy things. That girl who couldn't have known. You remember her. And at times, you miss her. But that girl, she had no idea where she could have gone or the things she could see or do. She just had no idea.
Picture credit/discredit: author's own work