1.2.3.4 BISHOPS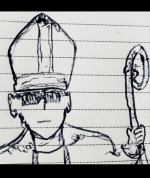 Wed, 17 Jul 2019
Bishop 1: And what about this one?
Bishop 2: Oh, Stinson? Yes, we should ship him off too.
Bishop 3: But I've heard promising things about this young fellow. He is very popular in his parish, I hear.
Bishop 2: Angleford, yes. There they love him for his youth and idealistic blathering. But they've had a pestilence recently, so it is not surprising they fawn all over his ambrosial manner. They are a miserable bunch, no doubt. Not without reason, mind – but crying out for the saints, they truly are.
Bishop 1: A beacon of kindness, is he?
Bishop 2: Essentially. Preternaturally, I believe. This is why he should go. He is incorruptible. We have no use for him here.
Bishop 3: But he could change. He is still young. And someone with a face that is already familiarly agreeable is always useful. He is surely the opposite of Masterson.
Bishop 2: The complete opposite.
Bishop 1: Let's not even mention his name.  It shall be a blessing to be rid of him.
Bishop 2: And then there's Teddy Geissel.
Bishop 3: Ah, Father Teddy Geissel.  It will be sad to lose such a luminary of the church.
Bishop 2: He has his moments, for sure.
Bishop 1: Yes, yes.  A pity.  But he's too nimble in his ways.  Not before or to this day have I met a priest more burdened with hubris.  A man as unabashed as that will be caught out soon enough for whatever his antics of choice are.
Bishop 3: They are newsworthy antics, let me tell you.
Bishop 2: And where to post them?  South America?  Asia?
Bishop 3: Does it matter?
Bishop 1: They speak the language of our Lord.  It matters not where we put them.  They shall be heard.    
Bishop 4: Shall we have another drop?
Bishop 2: Yes, please.  The time is right. 
Bishop 3: I shouldn't...but I ardently will. Go on. Stick a wee nip in there, lad.
Bishop 4: Happy to.
Bishop 1: You're a fine young bishop, Bishop 4, do you know that?  You'll go far in this business.
Bishop 4: Much obliged, Bishop 1.  I've been learning from the very best.  You know, there is a reason you're number 1.  Say when.