Autobiography of a Charismatic Leader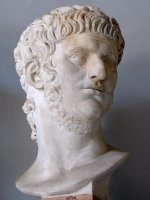 Sun, 30 Jun 2019
'So do you have a title for your memoir yet?' Walter asked Geissel.  They were standing at port bow gazing up at the tin foil sky and the tin machines and floating shrapnel in the bay underneath. 
'I was thinking of Autobiography of a Charismatic Leader,' replied the career priest and politicaster.
'Good title.  You are definitely a charismatic man, Father Geissel.'
'Thank you, I have always thought so myself.  There are other titles I was thinking of.  God's Tremendous Tool was one.  And Chaste and Righteous: Scenes from a Great Marriage was another.  But I think Autobiography of a Charismatic Leader just fits.'
Dolores was slowly moving away from Torshavn harbour and further into the dark of the dawn sea.  Engines were growling around them and spitting out black smoke-rings, and occasionally the face of a bemused local fisherman materialised from the dense steam, staring at them from a passing trawler. Grimur could be seen waving them off from the docks; and behind him, Torshavn had the look of a painting of general township, except all smudged in the gloom, as though the artist's child had gotten hold of the canvas before the paint had dried and seriously run amok. 
'Would you like to see the books I have brought?' suggested Geissel.  'There is a large collection of literature in my cases down below in storage.'
'That would be interesting.  It would be nice to have some reading for the journey ahead.  However I feel that for much of it I shall be otherwise engaged in projection.  Or attempting to engage.  I would like to be of help to your Captain Littlewood in trying to find Akkitok.  I need to be alert for when the ice speaks.'
'How alert are you when you're projecting?  Don't you have to go into an unconscious state?'
'I may seem so in your eyes.  My body will appear dormant. But my spirit will be off.  Somewhere else.  But still very much alive and receptive.  That is the way with etheric travel.'
'I find it all very interesting, yet I cannot suppress my natural scepticism, I must tell you.'
'Father Geissel, we are all sceptical until the windows break – and suddenly the view you had already comes with the feel of wind and rain and the things you thought would always stay outside.'
'Well, I think the windows are strong enough on this ship.  We got roughed up quite a bit on the way here.  And the glass held.'
They stepped inside Dolores and Geissel brought his astral projectionist friend down to where the cases were kept.  The old career priest was indeed right.  He had carted with him a great many books: volumes by Augustine, Dickens, Euripides, Chaucer; about the Roman Empire and poetry by Wordsworth and Pushkin and Blake; philosophical works by Plato and Kierkegaard; and a number of Irish saints were present – Patrick, Fursey, and Brendan.
'Charismatic leaders – one and all,' said Geissel, with soft imperiousness, as he showed off his travelling library. 
Walter nodded in moot agreement, holding up one of the Roman Empire books with Emperor Nero's image on the front of it.