We Are All Brown Bread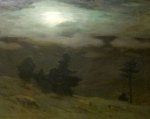 Tue, 28 Sep 2021
EVERLY: I'm out of paint. 
JEREMIAH:  Not to worry, sweetie.  I'll be going to town on Monday.
EVERLY:  I would like to begin a painting right now.  With the rain outside.  I don't think I've ever started one during a storm.  Well, during one this heavy.  Could it extract some new iteration from me possibly?
SULLIVAN:  It helps to paint pictures, does it?
EVERLY:  The storm?
SULLIVAN:  No, I mean does painting pictures help you – with your life and all the rest?
EVERLY: Oh.  Yes.  It helps. 
SULLIVAN: I drew good cowboys when I was young, or so they told me.  People clocked they were cowboys anyway without me having to tell them.  But I suppose all I needed to do was give them a hat and a gun of some recognisable shape to send people off in their minds.  I should get back into it, should I?
EVERLY:  Art I find is a wonderful balancer.  Might I ask what impressions you have of my own impressions.
SULLIVAN:  Some kind of symbol, I'd say.  They are a bit odd.  But that's forgivable.  I'm not one for abstract art.  If I looked long enough at one of them, I'd probably see a cowboy in there.  That's how my psychology works.
EVERLY:  No, they are symbols, you are correct.  Symbols of purity.  They are lotus flowers.
SULLIVAN:  No shit.  Fantastic.  I would never have copped on. When I first came here, I had them to be the aerial curiosities Madame Tasse is always speaking of.  Purity, ah.  There's something to aspire to.
JEREMIAH:  The lotus flower represents something exceedingly good and pure rising up out of the soil with its arms wide like an old-style mammy. 
SULLIVAN:  When I was drinking, it was a different type of soiling I did.  Far from pure I tell thee.
EVERLY: Besmirched the grounds of your homestead. 
SULLIVAN:  Indeed.  That and a lot more besides.
JEREMIAH:  You've been doing well.  Though there's still some road to be travelled.  This one here used to have manic episodes all the time.  Before the lotuses.
EVERLY:  Yes.  But all that is behind me.
SULLIVAN: I might give this painting thing a go then when there's paint to spare and draw a few cowboys like in the old days.  Are there any walls that are off-limits? 
EVERLY:  Just Elder's study, I think.  And the kitchen obviously.  But he hasn't objected to me painting anywhere else. 
SULLIVAN:  Yes.  I've seen them all around.  There's even a small one on the skirting board next to my head where I sleep upstairs.
EVERLY:  Ah, I know the one.  In the middle room.  I had to crouch for an hour to get that one half-done.
SULLIVAN:  Will you ever finish any of them?
EVERLY: (angrily) Never!
JEREMIAH: I'd stay away from the topic of completion.
SULLIVAN: Oh, right. (with a dulcifying tone)  Sorry.  The one where I sleep is lovely anyway.  It brings me great calm in the night.
EVERLY:  (suddenly a little tear-eyed) Thank you.
FRANCES: (standing at the doorway to the kitchen) Who's for stew?  An Offaly stew.
EVERLY: (wincing, whispering) Who would want such a thing?
SULLIVAN: I'll have a bowl of it surely.
FRANCES: Get back there and help yourselves, which is the whole reason we're here after all.
JEREMIAH: We shall make do with beans, thank you.
FRANCES:  Fair enough.  Just leave some for the rest of us.  There's only a few tins left out there.
JEREMIAH:  Not to worry.  I'm going to town on Monday. 
FRANCES:  And we'll all be going to town on you if there's none left for a fry in the morning.
Crispin Collins, who was standing at the window holding up one of his records (A Celtic Starlight, 1968) and describing its recording to anyone who would listen (see appendix 2), suddenly called everyone to attention regarding something he had spotted out the window.
CRISPIN: What's Brennan doing out there in the rain like a fool?
Outside there was a figure standing solitary in the storm.  But it was not Mr Brennan.  The man himself was sitting in the corner immersed in one of the old newspapers.  He lifted his head when he heard his name mentioned. 
            Me? he whispered.
            Collins turned and realising his error said:  Apologies for likening you to a fool, old boy. 
            That's quite alright, Brennan said and he returned to reading his paper in peace, The Independent of February 1977; by now he was well-used to being marked out for acting suspiciously yet he maintained his quiet dignity regardless.    
            Who then is that out there? Crispin Collins asked.
            The figure that was not Mr Brennan stood firm in the boisterous wind about fifty metres from the house and was much taller than the former postmaster even at that distance and in the haze, visible only as a silhouette in the teeming.  Strangely, he or she did not move, remaining still against the raging weather, more like an it than a he or a she, a scarecrow or previously unnoticed tree, but then a slight move, a tilt of the head as though someone had called out its name from faraway.  The needle became all flustered upon the vinyl, spitting and sputtering and stuck on Janis screaming WHY--WHY--WHY--WHY--WHY—WHY on Ball and Chain but nobody heard the malfunction so arrested they all were by the mysterious figure and also because the crash and shriek of the storm outside outnoised it.  It wasn't until after the figure vanished slowly in the rain-fog that Knox approached to change the record.  Crispin Collins suggested A Celtic Starlight as it was already there in his hands but most agreed on something else entirely. 
Appendix 2:
I would have axed the producer immediately were it not for the capacity he had to do his job well.  But apart from that, he was such a bully.  I battled with him throughout recording.  I had known him in the early days.  I played some shows with the Ian Campbell Folk Group around London.  The group didn't treat me well.  Swarbrick was full of himself.  A great player though.  And this guy, well, he joined in on the teasing.  They called me Ba-ba Bu-bu, because of my youth apparently.  I never understood it.  It was the way they said it that annoyed.  Extremely condescending.  Anyway, that producer's name is written here on the LP but I choose not to read it.  You can read his name if you wish but please do not repeat it in front of me.  It will hurt me badly.  My favourite song on the album is We Are All Brown Bread, based on some old Irish ballad, one of the first I ever recorded. 
I have been a red blueberry
And a wet and loose dog
I've been a bit of soda bread on a plate
And a droplet in the frog...fog.