A Star is Born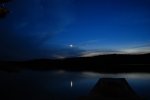 Sat, 19 Jul 2014
There's a stage at the Theatre Royal,
in most every child's heart;  ballerinas
danced on mine, pirouetting their way
across the floor, 
in a world I could only imagine
through books, and music and occasionally,
TV; a world in which my obsession knew 
no bounds. 
Taught myself to jeté and perform 
an arabesque...fought with my mother 
for the right to grow my hair long –
a must, as Juliet to Nureyev's Romeo.
The mere thought of the rippling silk 
of the curtains as they open thrills me,
still...the tumultuous applause, a sea
of adoring faces as I reach 
to catch a rose, undulates as, gracefully, 
I take my bow, waving its own unequivocal  
and limitless encores, as a star is born, 
no matter how many light years away...
no matter how small.