My Other Half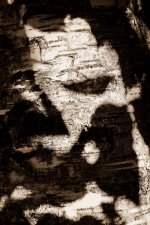 Sat, 31 Jul 2021
Half my body is clean and pristine, the rest is pretty much gunk. The left side is the good bit but it wouldn't matter which side was which; it could just as well be the right. Where the sides meet there is hardly a line, there is no blending or anything, you go straight from pure dirt to serene as if the cells are not joined. 
My left side knows nothing about my right side. My left side is washed and sweet-smelling, it looks radiant and fresh and you wouldn't believe if you had only one eye, or if you were looking through a prism, or if you were, for some inexplicable reason, only focused on my left, you would not believe that my right side was the extension of my left. My left side sports a smile, when my right labours under despair. There is no rhyme or reason to it. These are haphazard coincidences, they have no bearing on each other, and the fact that the right and the left are connected is merely a consequence of my need to be whole, because if I could get along with only one half, then my right side would not follow and I'd be a pure left-sided man.
I wonder where my right side came from and why it is present. Aside from necessity and not falling apart, I wonder why I wasn't made via the continuation of my left side, why for example not just pursue the theme, why did my maker decide to bring in a right side so diametrically different? Was it an experiment? Am I a precursor to a vertical halfling? Sometimes I wonder that it would have been easier, I mean it must have been harder to get the right side just plain out of nowhere, a side that is so revolting and murky, so full of blotches and holes, full of these terrible inconsistencies where the skin just tails off or is completely left hanging or where you can see right through to the bone and the organs, I wonder, in a way, that it might have been more difficult for the thing that made me to go into all that endeavour in creating a right side so contrived and revolting, so unharmonious and weird, that he might as well just have made his life easier and carried on where he left off with the left.
My right side basically doesn't make sense. It is a defect. Nothing fits or follows on from the next thing. The arm is wonky, the right thumb is missing, there is gout and inflammation and sometimes I just wake up with open wounds to find maggots looking for places to nest and bluebottles coming out of their larvae.
I would like to keep my right side hidden but I can't. I mean I could cover the body but I couldn't walk around with my face and head covered. That would look odd and would probably draw more unwanted attention. But then I like to keep my left side visible, I'd walk around with no clothes on that side given the chance and then I sometimes wonder whether the motivation to keep the left side open is not some dastardly scheme hatched up by the right side -- because remember my brain is equally schismed -- since my left side is so beautiful, it doesn't require any sort of attention or beholding, it exists in itself as a pure totem of love.
What I'm trying to get at is that my right side is just as much an outright disturbance to me as it is to the people that see it. Of course I have a memory, and I do remember that this is the way I was made the last time I noticed, I am a curiosity, with two different halves of a undesirable body. I mean who in the world can say that they are one made of two, because I have yet to meet any person in the world -- or beast for that matter -- cursed to live out their life as an asymmetrical anomaly as I am. What I'm trying to get at is that it strikes me as dumb as it strikes you when I catch a glimpse in the mirror. This is a quirk of it, but I sometimes imagine myself as only my left side, well quite honestly I always think of myself as only my left side, and then I wake up and catch sight of my 6" by 4" carbuncles or the stink of my right-side fetid breath and all the rotten teeth crumbling away into nowhere and I am left in this state of disbelief that this is really me with this hideous unsightliness, this ghastliness too much for people, for my friends and my family, for my erstwhile employers, too much for society so that my only choice is to be a recluse, i.e. an outcast, destined to hide my right side away, since I have not yet managed to come up with a way of cutting off the right side without causing me great damage, or making it look like a little more like my left to the faintest degree.
What I'm really trying to get across then is that my right side pursues me relentlessly, I just can't get away, and I will rant till I'm blue in the face -- well at least half of my face that is -- that it's an abomination, the right side, and yet, there it is in plain view, it is realer than real, or at least it is just as real as the left side, but then people seem to take much more notice of the right than the left, well, is that because people have a tendency to look to the right before they look anywhere else, I very much doubt it, it's just quite natural, I feel, to be attracted by the gross and the febrile and if it wasn't for a complete absence of my right ear, then people wouldn't be forced somewhat to look at my left half when they were speaking  since it is natural to turn to the side to which you are speaking so as to make yourself heard.
And so it all comes down to this.  When people see me, if they decide they want to talk to me, they see two different faces. They don't know which one is me. They can't trust me. I don't know which one is me. One makes an endearing expression whilst the other is corrosive and harsh. I cannot tell them to ignore the right when the right will just tell them to pay no attention to what the left has just uttered. Remember, my tongue is split clean down the middle, one side co-opted by the left the other commandeered by the right, my vocal cords and my voice box included, all the bodily constituents of my speaking being affected. And what ends up happening is that my speech is a babble, the right and the left tongue competing, a messy fight between left side and right, the right saying one thing and the left saying another, and what comes out is a glossolalia and no one can make sense of it, this speech of perfect contradictions, this seeming gobbledegook and nonsense, this paragon of confusion.
How do I ever get anybody onside? It would probably be better to be all-consumed by the right. Than to be an incongruous hybrid, with no type of balance, no integrity, nowhere to rest, destined always to be unsettled. But then I suppose the right bit can highlight the left, the bad can show off the good -- that might be one way of looking at it -- but for the right to be a corollary for the left to exist, I'm not sure it is worth it, and I wish so much to be untroubled.