Afghan Memories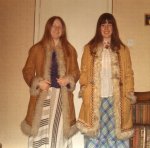 Sat, 22 Aug 2015
What can be better than keeping my reminiscences alive, than writing them down? Nothing! Well for me anyway. Had so many happy Wednesday nights at Tiffany's up on the downs in Bristol...I always found that to be a funny expression, 'up on the downs!' But there's no getting away from the fact that the downs held a great many treasured memories.
Tiffany's was the place to be, where girls would dress like the Spiders from Mars in adoration of their hero David Bowie, then there would be the hippy girls in their Afghan coats and Jesus sandals, or even bear feet, rap around skirts that would open in a cold breeze...that was my scene.
My favourite shop where I bought my coat was at the bottom of Park Street in Bristol, it was an Indian shop full of beautiful clothes and jewellery, the fragrance of incense hit you as soon as you walked in the door, it was like walking into an Aladdin's cave.
With an embroidered smock, or a bell sleeved, drawstring top, I would catch the bus to meet my friend, up on the Downs of course. From there we'd walk along the tree lined avenue, to the top of a steep road that would take us down to the car park at the bottom where Tiffany's stood waiting for our arrival...sadly it no longer exists.
Inside there were fake palm trees and tables, where if you wanted to eat, you could get chicken in the basket, but eating wasn't part of our Wednesday night fun, we just wanted to freak out on the dance floor to the sounds of Led Zeppelin...Lynyrd Skynyrd and many others.
There was a long bar opposite the entrance where we'd spend our money on Lager and lime or cider, it's crazy to think now, but cider was only about 10p a pint back then, we could have a good night with five pounds in our pocket and still come back with change.
It was always fun when me and my friend would be freaking out, then some guys would join us, I was a typical girl who enjoyed a bit of flattery and loved being chatted up, so we always hoped with anticipation that good looking, long haired guys would chat us up and were always a bit disappointed when they didn't, especially when Stair Way To Heaven came on, which was right at the end of the night, we just had to have guys facing us, then the hair would be really flying around.
I met a Welsh poet once who had such a romantic way with words, he was a window cleaner and lived in a huge house off White ladies road.
It was only a Twenty minute walk from his house to the Downs, so I would visit him frequently and we would walk together hand in hand, getting on so well, that we were unaware of anyone else that existed.
Our favourite haunt was walking through Clifton Park and then down into the village Market, where we'd spend hours wandering and looking at the various stalls. That was a place I spent a good part of my wages at the time, I couldn't ever resist buying, it was like a magnet.
Once when walking through Clifton park, it was pouring with rain, we stopped under a tree and watched a fox run across the green, it stopped and gazed at us...we never moved, afraid it would run away, but it didn't, it actually began to approach us, we just stood there in awe of this beautiful creature. I won't ever forget that moment.
With our Afghan coats keeping us dry, we made our way up to the Cifton Observatory and paid to walk through a tunnel that led to a viewing platform, where you could look out over the port way below
and the Clifton Suspension Bridge, which I've crossed many times.
My Mum grew up on the other side at Bower Ashton as it was called back then. It was also a good walk to get to Ashton Court, yet another place I've fond memories of.
But for me walking on the Downs with friends and spending money in the various pubs around the area of White ladies Road, Clifton and of course Tiffany's is the best and will stay with me.