Dear Diary Some Days In My Life Starting Over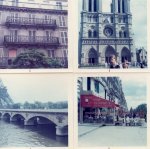 Wed, 18 Feb 2015
1 likes
There's not much I can recall about the train journey down to Tenby, but I do remember feeling apprehensive as I sat with my rucksack on the floor beside me, gazing out the window and feeling vulnerable and a bit scared. I clutched the bag's handle tight not wanting to let go, all my worldly possessions inside, I was so conscious of the people around and worried I might fall asleep. When alone, I tend to go into a world of my own, long journeys have that affect on me giving me time to contemplate on life, my brain never shuts down, 'thank goodness!'.
I had brought the letter Chris sent me and took it out to read, touching each word as I scanned the pages. He'd put his phone No and Address on the letter, though I still hadn't got in contact with him, I was afraid I might never have made this journey if I'd spoken to him.
My arrival at the Motel...with rucksack on my back and a need for a coffee fix felt strange, It was like the dawning of a new era as I walked down the path towards the back of the motel, like I was about to enter a new world, having come from Shirehampton, which back then was a small village. I'd not really ventured that far from home for any long periods of time. There was no welcoming party or friendly smile, just a lone girl standing beside the Motel pool, she looked about eight or nine years old, wearing a dress and flip flops and seemed to have a sad look about her face. Approaching her, I asked where everyone was.
"Are you the new nanny?" She enquired, a sulky expression on her young face and hands on hips.
"Yes!" I said. "Who might you be?"
"I'm Karen. Mum's not here...I'll get the key, so you can let yourself into the chalet."
"Oh! Right." I said, thinking it very strange that this girl who looked so young was on her own. "So where's your baby brother?" I queried.
"He's asleep...won't be awake till feeding time," she declared, casually skipping off as if there wasn't any problem. "When you've dumped your stuff off, I'll let you in to see him," Karen called back over her shoulder in a matter of fact way.
She returned with the key, as I pondered that if the Mother wasn't around, then surely there was someone else watching over the baby. "I think perhaps we should go look at your brother now," I announced. "I'm anxious to see him."
"Plenty of time for that...you'll be itching to get away, by the time you start working here." A huge grin crossed her already cheeky face as she spoke.
I had no idea what she meant, but then Karen came out with such a strange remark, I wondered what I'd let myself in for.
"Don't think you'll have it easy here, I'll make sure of that," she said bounding off again ahead of me.
This girl seemed very sure of herself, almost as if she'd had the blessing of her Mum to make my life hell while I was here. Now I'm quite perceptive on first meeting people, and I can honestly say Karen did give me a bit of a chill, I found her to be a bit scary.
Turning the key in the lock she let me in to what was my quarters, I dumped my rucksack down on the bed, then without even bothering to checkout my surroundings...plenty of time for that later, I said it would be best if she took me to see the baby.
It was the school holidays, so lucky me, I had Karen there for the Summer...'yippee! Can't wait'...I am joking of course.
Taking me over to their living accommodation, she hardly said a word apart from. "You'd better do as I tell you, or I'll tell Mum you're no good."
How can such a young child put so much fear into an adult? She certainly had the gift of the gab.
Upon meeting the baby Christopher, he was an absolute treasure and slept soundly in his cot, but I was shocked to realise that nobody had been at home as he lay there, except for Karen who informed me;
"I'm in charge while Mum's not here and you'll have to do as I say."
Well I didn't recall being told any of this at the interview. I was desperate to see some friendly faces and learn a bit more about Karen.
Feeling positive was becoming harder, as she led me around what I considered to be a flat, now that I'd had time to become accustomed to my surroundings. There were bottles of milk already made up in the fridge, so Karen ordered me to warm one up, as Christopher would wake up soon, apparently she informed me that he was like clockwork and always woke at 5pm for a feed.
Filling the kettle with water, I could feel Karen's eyes on me, following my every move.
"Can I make a coffee?" I asked, desperate for a hot drink.
"Yeah!" She said, "once you've warmed the bottle up in that jug over there." She pointed to a pitcher which stood on the work top by the fridge.
I counted to ten, not wanting to loose my cool, after all this wasn't my home and I didn't feel inclined to get into an argument with this young bold as brass girl, but deep inside I was seething. Never before had I come across a child of her age that oozed so much confidence. For now I kept my cool and did what she said.
Christopher soon woke and I was able to give him his feed. Being an only child I'd never had any experience of feeding babies, but it seemed to come naturally...to my great relief...sigh.
Karen took over, telling me in no uncertain words, that he would need burping. She showed me how to do it, I was actually impressed at how much the child did know. I thought we were getting along fine as she showed me how to change his nappy, 'perhaps!' I thought,  'she's not as bad as I first envisioned.'
It wasn't long before her Mother came home and welcomed me into the fold...so to speak. She seemed very pleased to see me and glad that her daughter and I had become so acquainted. I was also pleased that maybe Karen and I were making progress and had bonded...only time would tell.
The Mother asked me if I would come in the next day and learn the ropes of looking after Christopher as it was Sunday and she had the day off, then when Monday came, she could leave me to it. I agreed and said I would see her the next morning.
Leaving the flat I was glad to get out for some air. I made my way back to my chalet thinking the pool looked inviting, but for now I was too tired for swimming. I began to unpack my rucksack as soon as I entered and was pleased to see I had my own bathroom, which was a bonus...no more fighting for the loo.
I thought about exploring the grounds, but decided there was plenty of time, so flopped down on the bed, which was fairly comfortable, but nothing could compare to my own bed back home. As I lay there, I thought about my friend and wondered if she was still the same. It had been nearly two years since I'd seen her, although we'd kept in touch by letter and phone, we seemed to have drifted going in different directions, especially when I met Geoff.
Thoughts came back to me of our week trip to Paris, in 1973 and I was 18 going on 19. It was the first time I'd been out of England and both me and Maggie were really excited at the prospect of travelling without the parents. We'd caught a train from Temple Meads to London, the first thing we did as soon as we got there, was to go for a drink...as you do. After going in the umpteenth pub and feeling tipsy, we decided to get our pictures taken in a photo booth, making funny faces at the camera and acting silly...joking around.
Having not booked in anywhere we took our chances, walking from one cheap accommodation to another. Eventually we found a room for the night which was opposite the river Thames, I remember it being very dark and poky...a bit spooky too, with its old fashioned furniture in a large Victorian house, but it was only for one night, it suited our needs and so we slept with a lot of help from lager.
The next morning we were up and out early, we grabbed a bite to eat at the train station, then caught a train to Dover, then the ferry over to Calais. We hardly stopped to catch our breath, before we were on a train to Paris...I only wish I had that much energy now.
It had worried me going to France, as I couldn't speak a word of French, but my friend Maggie assured me she'd do all the talking for both of us and so we were on our way.
Our hotel was typically French, with windows that opened up on to a tiny balcony overlooking the street. I remember I'd never seen a bidet in the bathroom before and had to ask her what it was for, never having been out of the country until that time, everything seemed so strange to me. Though we had French bread and various jams and marmalades for breakfast, with coffee...it was one of the meals that was exactly as I'd expected and just enough to fill us up, ready for a day's exploration.
I was overwhelmed at the sights, particularly the Gardens of Versailles and the Palace, with its long, gallery hall of mirrors...I think my mouth was open throughout the walk, looking up at the ceiling and the paintings. I was spellbound by the history of this magnificent building.
On another day we visited the Sacre Coeur, with its huge domed roof, I wondered how on earth they got up there to clean such a magnificent dome. The walk up the steps was steep, but once at the top, it was worth the climb, I'm so glad we did it, as now I can't imagine having the energy to do so much walking. We also got to see the artists painting down at the bottom, along the by the river Seine. We went to the Eiffel Tower, but never actually went up, instead we visited Notre Dame with it's amazing carvings on the doors, which I remember well.
Something we didn't understand when we arrived, was the metro, we thought it would be like the London underground, but only later realised that you had to look for the end of the line, to know which train to get on, rather than the next station, surprisingly we took two days to actually work it out on our own.
One evening we went out to a bar in a side street, that we'd discovered during the day's walk...I have no idea how we got there, but it was down stairs in a kind of cellar which was open all night, so we had endless hours of fun . Whilst we sat lapping up the atmosphere of chat and music, we got chatting to a real Polish Count who was out with his family, both me and Maggie had fallen madly in love with this gorgeous man who resembled Robert Plant from Led Zepplin. I have memories of him and his Father buying us drinks all night, I don't think we parted with any money after meeting them.
Amid the fun times that sticks out in my memory, there was one occasion that I think I'd rather forget. It was on one of our many evenings of going for a meal. We were at this restaurant and got into an argument, what it was about, I can't remember for the life of me, but it was probably something really futile...as is normally the case for a dispute. We were both so angry at each other, neither going to back down, I remember Maggie getting up from the table and leaving me to pay the bill. As she stormed off out the door and down the road. I called her to come back, but she wasn't having any of it, so paying the bill I left the restaurant, gazing up and down the street I froze, she was nowhere to be seen. Panicking I walked back in and tried to ask the waiter to point me in the right direction for Hotel Ru Mont-Dore, where we were staying, but he couldn't speak English and I couldn't speak French and he shrugged, not knowing the Hotel, so we were getting nowhere. Then I asked him for the police station, to which I got a look of; "Sorry...I don't speak English, no understand." As he shook his head.
Right there and then I was desperate and left the Restaurant, walking up and down the road, trying to find someone I could ask the way, people just kept giving me strange looks. I spent about an hour wandering the streets and became frightened, thinking I'd never get back.
I walked trying hard not to draw attention to myself, having no idea of where I was going. Then as I approached a bridge leading to the Eiffel Tower, I couldn't believe my eyes, their sauntering across was Maggie, I'd never been so happy to see anybody in all my life, it was an evening I won't forget.
There was a knock at the chalet door. As I lay there with eyes closed, I shrugged ignoring the raps and turned over, thinking it might be Karen come to annoy me, but the knock came again and a voice that I knew well called my name. Jumping up I quickly ran to the door and opened it, there stood Maggie.
To be continued...