Dear Diary Some Days In My Life The Wedding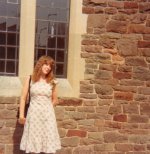 Sun, 08 Mar 2015
The day of the wedding arrived and Chris was his usual calm self, while I on the other hand was quite nervous about meeting so many strangers. Chris assure me that everyone was friendly and not to worry about the language barrier, though being the kind who stresses easily I couldn't help myself.
The night before I'd put a toners colour on my hair to give it some shine and lift, it was always a difficult task, but even more so now I was in someone else's home. Wearing the white plastic gloves, they were so flimsy that it wouldn't take much effort to produce a hole, then of course my hands would become a mahogany red, I would then have to scrub vigorously to make sure the colour got washed away, trying hard not to leave red stains anywhere in the bath, sink or on the floor...once that dye took a hold of anything it was really hard to get out.
After putting the toners on, I would then have to wash my hair and rinse, watching all that colour running down the drain and hoping it never left any marks. Then would come the next part of the ordeal...the plaiting, many elastic bands were used, as I wanted to give my normally straight, flat hair some fullness, this would take at least an hour to do with the many tiny plaits coming together all over my head, they resemble loose braids, but looked good when removed, then my hair would have some wave to it, the only problem was, that it didn't stay in long and throughout the day would become straight again, the things us ladies do to look good...phew!
Once dressed in our best attire, we were ready to leave. Chris and myself took the van, while his parents drove their car. After leaving the van at his cousins, we arrived at the church, the bells ringing out for the lovers arrival. I remember the service well, it was much like our own ceremonies, though the couple were lucky enough to have a red carpet in and out of the church, something I'd never seen happen at a normal wedding before.
Unlike in this country, the couple then went to register their marriage at another building straight after the ceremony, while we went on to the Hotel Smit in Utrecht. It was within walking distance and didn't take long to get there. As we arrived, I couldn't believe how posh the outside was with its huge glass entrance doors. Walking in through to reception, we were shown to a room, where the wedding cake was to be served and their would be the reading of the wedding cards.
There we drank refreshments of tea – coffee or cold drinks for the children, it was a huge room with many tables spaced out for easy access and for the youngsters to run around. The couple arrived and made their way to the head table, where finally the wedding cake given pride of place in the middle, was sliced and handed out to the many guests. It was a typical fruit cake and was deliciously moist with icing on the top. The tea pots and coffee pots were placed on each table for us to help ourselves, with tiny jugs of milk and bowls of sugar cubes.
I was desperate to have a look around outside, as Utrecht was such a beautiful place with it's canals and amazing buildings, but there wasn't any time. So after the reading of the cards and speeches, we were then ushered in to another part of the Hotel.
To say I was mesmerized was putting it mildly...I'd never seen anything more beautiful in all my life. There were sparkling, crystal chandeliers hanging from the ceiling of this very plush, lavish huge room.
In the centre were four enormous round tables, each one had its own water feature in the centre with a splash fountain, a real show piece. Flowers adorned the tables, with candles burning and lilies floating in the water features.
We were led to our seats by the waitresses, they couldn't do enough for us and could speak English, so although the menu was in Dutch it didn't matter, but some words I understood anyway, like; Tomatensoep and Toast en boter – Omelette Siberienne and last but not least Koffie.
The inner part of the table revolved, which I found slightly awkward, as you'd just be about to take something like a roll, or a side dish, then someone else would turn, if you weren't quick enough you'd have to wait to direct it back to you again. But that was the only hurdle to overcome. The meal was out of this world and I can honestly say I was well and truly full up by the end.
We sat eating, drinking and talking well into the evening, then once again we were led to yet another room where there was a disco, which I always appreciate being a lover of dancing. I liked the fact that everything happened in the same Hotel, which meant we were able to keep the atmosphere going late into the night.
It was still warm and the night was balmy, so Chris decided to take me for a walk along by the canal. Because it was so late there was hardly anyone around. I was quite tipsy by now and feeling tired, so Chris said we'd stay at his cousins the night, as they only lived a couple of streets away. It would also give us more time to explore Utrecht the next day...I couldn't wait.
To be continued...