Dream Sequence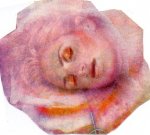 Mon, 11 Jan 2016
an effortless night furnished a personal illusion,
we're together in the zone...
if only for tonight;
Uncomplicated dreams...though if truth be told
I had a fusion of interweaving apprehensions,
but still a stronger craving for our passionate desires,
your taste buds galvanized as I tempted you with a gourmet of flavors,
then drinking down the grape, we sprawled out...
draped across scattered cushions.
You knew having read my mind my desire to step outside;
cold night air leaves no impression as we equipped with amusing imaginings...
ignore distant furtive dialogue that leaves us icy cold,
whispers give us cause to impart our humor
with tremors of silent laughter...
mouths cloistered – not one giggle could be heard.
Then! With caution you clutched my hand,
lead me into a cobbled trance
which didn't seem to bother me,
we wandered down brooding lanes
in a torrent...jumped in puddles,
till once more the stars shone bright,
our feet now drenched – needing to dance them dry,
a collection of tunes would have raised our spirits;
till we found our bed where somnolent heads concede,
dangling on the edge of dreams where wavelets of visions ripple
across my mind...anything is possible, even when fraught with
hazards...if we're lucky! We'll meet on the other side of sleep.