As Good As Marmite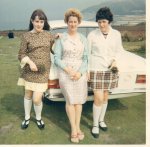 Fri, 18 Sep 2015
Dear diary...love it or hate it, I was just twelve years old when I discovered marmite...no just kidding! What I'm really trying to say is;
that back in 1966 when just twelve years old, this girl discovered four guys that were to change her life.
Mum and Dad always got the Radio Times back then, so as I turned the pages to find out what was on the usual boring television...well apart from Top of the Pops on Thursday nights...which I hasten to add, I never missed and would drive mum and dad mad dancing around the living room.
I suddenly stopped in my tracks...a picture stared back at me of four guys that would be in a new comedy series called; Hey! Hey We're the Monkees. Well as you can imagine I wanted to check out this new program, so tuned in to watch...I forget which day it was they first appeared, but while viewing I was glued to the television and laughed my head off...well they did tickle my sense of humour at the time.
I couldn't wait for the next week to come, it just wasn't on long enough for my liking. Meanwhile I could talk of nothing else, droning on far too much at school and at home about how wonderful they were, driving all and sundry mad with my devotion for these four guys, floating on a Monkee cloud.
Everyone kept saying they were just manufactured, which I agreed with, but that never put me off, because like millions of other teenage girls at the time that had discovered the fab four...you either loved them or hated them, I adored the guys and the yummy marmite too.
My real love was the baby faced Davy Jones, I was entranced by his beaming smile and those gorgeous eyes that lit my world up every time my twelve year old self saw him, wishing I could be the girl of his dreams, writing poems and imagining I was that girl that he loved...Oh Swoon! I know it's kind of slushy in the day and age we live in now, but back then I was just another typical teenager.
Peter Tork was so cute and funny, especially when he fooled around. Then there was the lovable Micky Dolenze with his crazy antics and a singing voice that was so mellow...well I thought so anyway. Followed by Mike Nesmith, or Wool hat as they called him back then, due to the green wooly hat he wore. Mike was the sensible one out of the four, though straight faced, he still had that comedy element about him with his dry sense of humour. Now I realized how all those girls who lusted after the Beatles felt, as I idolized the fab four.
From that moment on, much to my dad's annoyance, posters immediately went up on my bedroom walls and ceiling, mostly of Davy Jones of course. My dad who'd done all the decorating when we moved in, nearly hit the roof, but came to accept that it was my bedroom, and if I wanted to sleep in a shrine, then it was up to me.
Davy would stare down at me as I lie in bed, no gaps could be seen, the guys were plastered everywhere, including my wardrobe and drawers, bedside table, in fact anywhere I could put a picture. I even wrote on my school pencil case: I love the Monkees and Davy is my everything. I was picked on something rotten at school about that, but did I care...No!
When they became a proper band and people said they couldn't play their own instruments, I just laughed and said... 'so what!' It never bothered me in the slightest, cause as far as I was concerned those people never understood anyway.
Eventually my twelve year old self discovered the Monkees had a fan club, you wouldn't believe how excited I got. My wonderful Mum paid for me to join knowing how much I adored them, she supported me one hundred per cent.
All my pocket money went on records – magazines such as Fabulous 208, Mirabelle, Jackie. I would spend hours cutting out pictures of the guys and sticking them in my scrap books of which I still have, keeping them up in our attic. I wish now that I'd just kept the magazines and not cut anything out, but hey ho! I was only twelve.
It was 1967 and I was close to be coming a teenager, yes that wonderful moment when I would finally reach thirteen...I couldn't wait. Fabulous 208 had a competition to win tickets to see the fab four at Wembley stadium. I entered but sadly didn't win. Then I got a letter from them, saying they had a limited amount of tickets for sale, but it was first come, first serve. I asked Mum and she agreed to pay for them. ( Mum you're a treasure.)
She said it would be a birthday present from her and Dad, I even had a dress made specially for the occasion, which my parents paid for. We went on holiday during that Summer to Port Isaac in Cornwall, and my friend came with me, we shared wearing the dress with pride. It had yellow around the bottom and yellow around the lower parts of the sleeves, with a psychedelic pattern. I didn't mind sharing my dress with her, but no way would I let her borrow my treasured Monkee bag.
To be continued...