I Can Only Wonder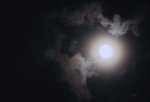 Sun, 05 Jun 2016
Clouds float across the midnight sky as I lie here tucked up
in my cozy sleeping bag...full moon appears to whisper her
secrets of nature's silent dialogue; she speaks in unfamiliar
measure not understood, I can only guess at her message.
I remember running bear foot through wet grass; it was after
a heavy thunderstorm on a hot muggy day – the kind where
you feel electricity of that downpour flowing through every
open pore of the body; awakening this captive; restless soul,
then! If I listened carefully I could hear soft murmurs in the
essence of warm breezes, embracing unfamiliar resonance;
or; North Winds howling in Winter – seemed to me like
discontent at being woken from dormant slumbers, as I on the
edge of sleep can only wonder at that glorious...lunar beauty.