Journey Into Fairy Woodland Part Two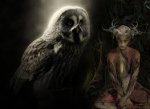 Sun, 27 Mar 2022
At the other end of the wood, an entrance to a hole had been decorated for the binding celebrations with greenery, along with a feast set out on the stone boulders that was fit for a fairy king and queen, consisting of dried berries, nuts that had been collected and stored all Winter. There were also dried mushrooms, salads of young leaves of Hawthorn, dandelion leaves and their golden yellow flowers, then there was goose grass, and many other tasty foraged foods that were eagerly awaiting hungry mouths to feed.
Standing outside the entrances was the fay Alvar, he was a slight little character with a head of fine red hair that sat under an acorn hat. Today on this occasion he wore a green waist jacket over breeches made from the wild wood lily-of-the-valley leaves.
He and his twin were guardians of the tunnels, along with other fay. His brother Amalric enjoyed teasing Alvar, using his magic to wind him up. On this occasion Amalric called out to his twin, "psst!" While making himself invisible and tapping his brother on the shoulder, but Alvar didn't bite, not even flinching or turning to look back, he'd wised up to Amalric's antics and didn't get agitated, which then of course annoyed Amalric. It was only when the mischievous twin knocked his brother's acorn cap off, that Alvar became annoyed. The two brothers then began rolling around on the ground trying to pin each other down.
Their father Alston who was hundreds of years old, was still sprightly in his old age, even though in fact he'd been around a long time. He could recall the time when Wistful wood began life, and saplings of the first trees were just beginning to grow. Back then his early days had been spent with his siblings living in tunnels created naturally, and the fay only ventured out travelling far for any morsel of food that could be found. It was only when the trees really began to flourish and the goddess of flowers...Flora gave rise along with all the beautiful greenery, that life became so much easier.
Alston heard his two sons getting up to mischief and put down his sharpened stone he'd been using to carve a design into a wooden table he'd been making for the couples new home. On hearing the raucous he came flying out of the darkness to set the brothers straight. Alston stood over the twins. "Stop this nonsense," he yelled out  "Amalric you're supposed to be helping your brother on his binding day, not play fighting."
The two brothers were now in high spirits and ready to carry on with their antics, not caring about Alston's words. They both flew up into the branches of a tree and began tickling each other with fits of laughter. Alvar just couldn't be mad at his brother for very long, and although his twin made him angry, Alvar also found him amusing, because Amalric never took life too seriously. Even when Amalric tried to get out of doing work, he would cheekily turn and plead with his brother to do his jobs for him, Alvar would of course always agree, wanting to keep the peace.
Finally once Amalric had calmed down, which he always did in the end, he flew back to earth with his head bowed and apologized. "I'm sorry, just got over excited I suppose."
As usual Alston smiled and put his arm around Amalric's shoulder. "Come on...no harm done, just remember it's your brother's big day."
Amalric turned to his brother, "are you coming down now?" He shouted up.
Alvar was quite happy where he was. "No! I'm staying here a while." He wanted to think about the day and what it would mean to become bound to his sweetheart Anemone. Part of him was looking forward with excitement, the other nerves at how becoming responsible for someone else other than himself would change his life.
Journey Into Fairy Woodland Part Three | ABCtales
To be continued...
Pixabay free to use image.