Letting Go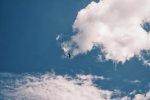 Tue, 07 Mar 2017
Loathing to stand before a bonfire of lost memories,
choking tears back as I stare into merging flames;
so hard to let go, like watching an old friend wither
away...want to hold on to the warmth of those moments,
rational it might be to downsize – dispose of the past,
yet now I thirst for brown, aging sheets of musings
that wither on the breeze, some might consider them
unnecessary drivel, but which I have fond recollections,
twigs nudge and crack like weakening of old joints,
I gaze up to spy a plane canoodle with billowy clouds,
an azure sky plays hide and seek, reminding me of a
shroud that sits between myself and infinite space.
I remember words carved with love – only visible to
moon and stars; they were ours to find and decode,
but now I'm wondering! Did they survive, or would
they too have disappeared like my other keepsakes?
For just a moment sun appears casting afternoon shadows,
silhouettes taught me a lot about mystery – hands weaving
intricate shapes, patterns in faint glow of candlelight, where
forgotten webs cling to that integral part of who I am – now gone.