Life Begins at Forty ( Pt 2 )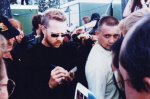 Fri, 04 Mar 2016
Once I'd left my friends I wandered off by myself, I was beginning to wish I'd been able to get two backstage passes as loneliness was setting in, and I wouldn't have anyone to share my experience with, but I knew I had to soldier on no matter what. I managed to catch Corrosion of Conformity and Warrior Soul as they were the first bands on, they were so cool. I was desperate to see White Zombie and Slayer, but I was so worried I'd miss Metallica's signing that I didn't hang around too long.
Inquiring of many people for directions to where I go for backstage entry, mostly I got shrugs or vague looks of: How the hell should I know? Being on my own was turning out to be hard going and a bit of a nightmare, but eventually I found someone to direct me there, phew! What a relief.
I noticed there were a lot of Porta cabins as I entered the great unknown backstage. Feeling kind of sheepish as I was on my own, suddenly all my confidence of that morning was ceasing to be and I wondered what I was supposed to do here. I imagined the bands in these portable cabins all fired up and getting ready to go on stage, or just relaxing after their performance.
The only items I had on me were my disposable camera, some money, autograph book and pen and an Afro comb, which thankfully I managed to fit into pockets in my jacket and jeans: Oh! For the wonder of denim! Of course I had my backstage pass too, can't forget that.
I decided to have a walk around checking out the venue, when all of a sudden this big guy came along with a full beard in deep conversation with another guy. I had a feeling I recognized him so decided to take his photo as he walked towards me. As he got closer I approached him. "Excuse me!" I said, feeling slightly nervous. "Are you Big Mick?"
"Yeah!" He replied smiling. "What can I do for you?"
"Could I have your autograph please?" I asked eagerly, bringing my book out from inside my jacket.
"Sure!" He replied. He signed my book, From Big Mick Full Roars. He was Metallica's audio engineer and such a great character. I was over the moon to have met him, this was a very proud moment for me as he smiled and walked away.
Before I had time to breathe I recognized Vanessa Warwick off MTV's Head Bangers Ball, her hair was braided tight to the head and she had black leggings with a blue vest top and denim jacket. I remember her sat with X Factor from Warrior Soul, so plucking up courage, but feeling a bit sheepish, I went over and introduced myself, it was like embarking on a sacred space, as they sat in deep conversation. I hoped I wasn't intruding on an interview, but normally Vanessa would be holding a microphone if she were asking questions, she seemed so tranquil, but I never saw her broadcast in a tense way, she oozed confidence and just seemed to go with the flow, never seeming intimidated by anyone she interviewed, a true professional all the way.
As I approached smiling, they all looked up at me. Biting my bottom lip, I thought! Go on Jenny, just do it, the worse that can happen is they tell you to go away. So I asked. "I wonder if I could have your autographs?"
There wasn't any hesitation as X Factor replied. "Yeah! Sure. Who shall I make it out to?"
"Oh! Jenny," I replied again grinning from ear to ear.
He handed me back my book and declared. "There you go." I actually got a kiss on the cheek from him as I bent down to get my book – lucky me!
I then told Vanessa how much respect I had for her and how she'd been such an influence on me. Again my camera was clicking away. She was a great lady and had no problem in signing my book: To Jenny Cheerz! Vanessa MTV. This I will treasure forever.
After that, I was seduced being surrounded by so much fame, an autograph here then another there, my heart was beating fast, I could hardly contain myself and needed to sit down. Placing my bum on the ground, I could hear the live music playing on stage and wished I was out there with my friends soaking in the atmosphere of so much brilliance, especially Slayer, White Zombie and many others.
Daylight hours were dwindling as every second passed, I needed to shift my ass and find a toilet. As I was making my way towards a cabin I presumed to be a loo, due to the fact there was a queue, which was usually the case at open air concerts.
Be still my beating heart! For there ahead of me behind some makeshift gates, was one of my heroes, Sebastian Bach out of Skid Row, with rousing excitement I gazed in awe, he had such an aesthetic beauty with his gorgeous long hair, that he would sweep back off his face, how I tried to capture his expression so many times in sketches. I tried to overt my eyes so as not to stare, but like a magnet they kept returning. No! This was no good I needed to wee desperately, so concentrated on getting to the loo.
Having relieved myself, I noticed a lot of people rushing over to what looked like a holding pen, so taking a deep breath I followed in hot pursuit, with background music boosting my excitement, now I didn't care if I missed the bands, I was on cloud nine and back to my confident self once more.
I knew from past experience that Metallica would be brief in their appearance to sign autographs, it was usually Jason Newstead the band's bass guitarist that normally came out to the fans. My concern was that none of the Metallica guys would appear for the signing, which left me with apprehension that I would have missed all the other bands for nothing. But then a security bloke came over and directed us to another area, so we all followed, I felt like a sheep being herded as we shuffled forward, resembling penguins because we were so tightly huddled together.
You really never had a problem getting to know people at festivals and concerts, it was just a case of being confident and self-assured enough not to let anyone badger you, but just to make sure you pushed forward with determination, that I did in bucket loads. Soon I was squeezing my way through, till I spied the mighty Hetfield himself already signing autographs. James Hetfield rarely made an appearance at signings, so with my book in hand and a confident attitude, I pushed my way through the wall of bodies, hoping I didn't get forced back for my cheeky behavior, but you have to be assertive at these kinds of gatherings to get what you want.
My driving determination had never been more resolute. Yes! Finally it paid off, I was now within spitting distance of the great man himself.
The last part of my effort was the most hostile and unwelcoming, it became clear that the closer I got to my idol, others were less sympathetic to my plight and let me know with either frosty looks, or menacing threats which I must admit did worry me, but again I wasn't about to be intimidated as I studied a new way forward. I spent the best part of five minutes thrusting my way slowly between each person, till finally I made it and was two people away from James.
Standing on tip toe enthusiastically, I could hear the cheering of the crowds. Metallica would be on next – I had to get my autograph, it was now or never. Reaching out with both hands, my feet actually lifting off the ground at one point, if there hadn't been so many people holding me up, I would have surely fallen over flat on my face. I was now fired up as he took my book in his hand and signed his name, handing it straight back. It was over so quickly in the blink of an eye. None of the prodding and pushing mattered anymore, I had what I came for and was ecstatic, ready to hit the snake pit.
To be continued...