My Very First Visit To Wembley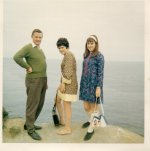 Sat, 19 Sep 2015
Dear diary...so on Saturday July 1st 1967, with our fifteen shilling tickets, me and my friend were given a lift by my dad to Cannon's Marsh coach park in Bristol, where we caught the Fabulous 208 coach to Wembley...our approximate arrival time was 2 pm.
The coach was filled with mostly teenage girls, all giggling and as fired up as I was, desperate to get there as quickly as possible. As we travelled, some girls began singing Monkee songs, so me and my friend joined in with enthusiastic renditions of Day Dream Believer – Last Train to Clarksville – I'm a Believer...and many more. It was only when we had a toilet break, did we finally shut up...much to our agents great relief. As we got back on the coach, we were given lunch packs of chicken and rolls. The agent looked after us very well if I remember rightly. I was far too excited to eat, so decided to keep the food for on the way home.
We at last arrived at the Empire Pool Wembley, all the girls were bursting with excitement and ready for the show. Leaving the coach, there were loads of fans either disembarking, or milling around the coach park.
I noticed that many girls had gone to great lengths to support the Monkees, wearing posters attached to their clothes. Some had Monkee tea shirts and hats which they wore proudly. I had wanted to bring my bag which I got from the fan club, but mum wouldn't let me, saying it could get stolen...she was right of course.
I gazed around as we waited for our agent to do a head count of how many of us were on the coach, when I noticed some girls running between the coaches, I wanted to run too, thinking they'd seen the Monkees, but my sensible friend reminded me we should stay with our party in case we got lost, so sadly I never did find out what they were chasing.
Anyway! We arrived at the South door and had our tickets checked, then me and my friend ran down to the East Terrace. It was about 2.30pm, so we had plenty of time, the show didn't start till 3 pm. Finding row H, my friend was seat 34 and I was 35...I retained the tickets, so still have them to this day.
The singer Lulu opened up the show, but I don't really remember much about her, she had a backing band called: Epifocal Phringe, but again don't remember their act. By the time we were into the second half of the show, everyone was up on their feet screaming like Banshees and shouting, "WE WANT THE MONKEES!" Suddenly there were my heroes running onto the stage...there was Davy looking even more lovable in the flesh right in front of me, swoon! I just got lost in the moment and began screaming Davy's name along with everyone else.
The noise of us girls screaming and shrieking out, meant we couldn't actually hear a word they were singing, but for me and the other, what seemed like millions of girls, it didn't matter, we just wanted to let them know how much we loved them.
It all came to an end far too quickly, as we made our way back to the park. By the time we were on the coach, I wasn't able to hear a thing...except for the constant ringing in my ears, though I still managed to sing Monkee songs along with the other fans, until eventually we'd had enough and settled down to eat our food. I've a feeling I slept the rest of the way.
When I awoke, the coach was quiet, but I still had that dam ringing reverberating in my ears, that went on for at least three days, which made it difficult to hear when I went back to school on the Monday.
Thank goodness it was near the end of school term...yipee! The school holidays were just around the corner.
We finally made it back to Bristol and thankfully my dad was there to meet us, so with my official souvenir book of their visit and the tickets tucked neatly inside, we disembarked the coach. On the way home me and my friend reflected on our amazing adventure to Wembley.
To be continued...