Promises Beyond The Veil Of Light ( PT 46 )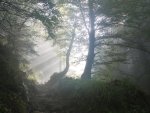 Sun, 07 Oct 2018
Picture by pixabay free images.
Part Forty Six
It was a confusing Tuesday morning at Evie's flat. Mina sat in the kitchen stirring cereal around with a spoon, crying into her cornflakes. She'd been dreaming of being back in the forest where the only responsibility was being at one with nature. Now awake all she could keep saying to herself was, "Where's Evie? Why hasn't she phoned or left a message?" It was so unlike her to be this distant! Mina just couldn't understand any of it.
Not much had been said since father and daughter had been up. Kendrick was in no mood for conversation needing to organize his day. Filling the kettle he turned to Mina. "I have to go down to the police station this morning, so I'll drop you off at school first."
"It's okay dad, I'll catch the bus," Mina replied knowing how busy he'd be and not wishing to upset his day any further. She felt so gloomy in her thoughts, it would be a relief to see some friendly faces.
"No butterfly, the weather's pretty atrocious, I'm actually wondering if the buses will be running this morning." Kendrick gazed out the kitchen window at the garden, there wouldn't be much chance of getting anything done in the forest this day, which was just as well with all the worry. "Have you a recent photo of Evie?" Kendrick asked sitting down opposite Mina waiting for the kettle to boil.
Wiping tears from her eyes, moodily she replied, "I'm not sure about a recent photo, but there's albums in the living room I'm sure will be useful." Mina felt enveloped in so much sadness as she feared the worst.
Kendrick tried to console Mina. "Please don't cry butterfly, everything will be fine in the end. You don't want to go to school all red eyed now do you?" He tried to put a smile on her face, but his grin appeared forced.
That was the last straw, Mina just blurted out. "Dad! I wish I was eighteen, I want to go home to the forest, it's horrible living in this world."
Kendrick felt emotional for Mina, but knew he had to stay strong for his daughter. Standing up he came around to her side of the table and put his arm around her. "Oh dear butterfly, look I know things are a bit up and down at the moment, but you did have a good holiday and you enjoyed yourself at Emma's yesterday, didn't you?"
It wasn't that Mina was discontent, it was the not knowing either way where Evie was and why she'd not returned. "I suppose so...yes." Mina wiped her sleeve across her eyes. "I wish Evie were here, at least then I'd know she cares, but it's as if she's just up and left and doesn't want me anymore."
Kendrick sighed still trying to console Mina. "I'm sure that's not the case, Evie took you in and loved you like her own, she wouldn't just suddenly neglect you."
Changing the subject Kendrick jumped to it. "Come on butterfly, no time for being maudlin, eat up and let's get you to school." Kendrick realized he'd need to be here for his daughter at this time. "I'll pick you up from school and we'll get some fish and chips on the way home, will that cheer you up?"
Mina forced a smile, "I suppose so, but let me know what they say at the police station, I want to know if anything is wrong straight away, even if you have to ring school." Mina pleaded. "Promise me dad, please promise." She tugged on Kendrick's arm as if in desperation.
"Of course I will," replied Kendrick shaking her hand off. "Now stop playing with your breakfast and eat up." Kendrick went into the living room and found the photo albums on a book shelf. They were dated and the latest one said 1989. Inside were photos of Evie at an office Christmas party, there was a photo of her dancing, but it was the one of Evie posing with some staff that caught his attention, it was the closest to how he recognized her now. Taking the photo from the sleeve he placed it in the top pocket of his coat and went back to the kitchen. "We'll be off if your ready," he said rubbing hands together and picking up his staff.
Even stepping outside the door was an effort, the path was deep with snow until you reached the main pavement. Mina took her dad's arm noticing the gritters had been out. It was a relief to know her dad had a car that could drive in most conditions. "Thank goodness for the big tank," she said, her doctor Martin boots sinking in the snow. Mina's coat was warm and her hood kept the snow off her long hair which normally covered her face.
Climbing into the passenger side, Mina shook snow flakes off and pulled down her hood. "You gonna be okay driving in this weather dad?"
Kendrick started the engine up and put on his seat belt. We'll be fine in the tank butterfly." He shot a grin and winked remembering that was Mina's name for his car.
The journey wasn't as bad as Mina thought it would be as they arrived at school. As soon as they came to a stop, Mina undid her seat belt and stepped out expecting to see her friends, but there was hardly a soul around apart from a few brave souls that were on foot that Mina only knew by sight.
"Better check if school's open butterfly, otherwise you'll have to come with me today," uttered Kendrick closing the car door.
Mina thought that wasn't such a bad idea, at least she'd hear first hand about Evie.
They were just making their way over to the entrance when the school doors opened and Mr Forbson the headmaster stepped out. "Ah! Mr Hunter, I'm glad you're here. I'm afraid school's closed today." He squinted as flakes blew in his face not enjoying the conditions at all. "Weather's hindered many of the teachers from getting in. I think it's best you keep Mina away, at least until this blizzard stops, better be safer than sorry don't you think?" He gazed at Mina in interest. "I haven't had chance to speak with you, so how was your first day back?" Mr Forbson liked to take an interest in all the pupils at his school.
Mina was in no mood for standing talking in the snow and was desperate to get away. "Okay!" She shrugged, stepping from one foot to the other.
Neil Forbson turned back to Kendrick. "Yes, well, I think it's best if you phone in before bringing Mina to school. If you ring some time about 8.30am tomorrow morning, I'll be here to take calls."
Kendrick felt the need to explain about Evie, but refrained as the weather was so bad and they were getting soaked to the skin.
"I'll phone in the morning then, hopefully the blizzard will have calmed down." Kendrick took Mina's hand and headed back to the car.
Neil Forbson turned and rushed back inside, not even attempting to say goodbye. He clapped his hands together and shook off the snow feeling the cold eat through his coat. He would be glad to get home on such a day.
Rushing to get back into the warmth of the car, father and daughter had only one place to be. Heading for the police station with windscreen wipers working fast and furiously, Kendrick was struggling to see where he was going. The roads were almost empty of traffic apart from a few drivers that were brave enough to venture out.
It took over half an hour to reach the police station, a journey that would normally only take ten minutes. Kendrick parked up wishing the wind would ease off a bit instead of picking up. "I'm glad it wasn't like this coming back from Cornwall butterfly, I think we'd have got stranded in this blizzard."
Mina was eager to get into the police station, even though she'd left her magical piece of coal back at the flat, she sensed something was not right. "Come on dad, let's just get inside." In spite of being out of the veiled forest for many years her magic was not dwindling.
They shivered as they left the car, trudging across the car park and stepping in through the main doors, stamping their feet to remove the snow as they entered. The station was an old Victorian building, inside there was one huge room, Mina could tell they'd probably knocked down walls to make one large space.
Walking up to the reception opposite the main door, an officer in uniform stood speaking on the phone and gazing at a computer screen. He put his finger up to sign that he'd be with father and daughter in a moment. Mina stood with hands in pockets wondering how long they'd have to spend there.
Eventually the officer put the phone down, looking at Kendrick he smiled and inquired, "So, what can I do for you?" He seemed relaxed having all the necessary requirements for coping with any situation. Mina was always nervous of the uniform, it was supposed to make her feel safe, but the association of it somehow frightened her, though she had no idea why.
Kendrick got to the point. "I rang last night about a missing person...an Evie Warren. I gave all the details over the phone, but was asked to come in this morning...so here we are."
The officer looked at his computer screen and hit the keyboard again, tapping in information while humming to himself. "Now let me see, Evie Warren you say. Ah! Yes, I have the details here. Have you a photo of her?"
Mina gazed at her dad as he produced the photo of Evie. "This was taken in 1989, it's the closest to her likeness now that we have. "The officer took the photo and studied it. "If you'd like to sit down, I'll send someone out to speak with you further on the matter."
Kendrick felt a sudden panic but tried not to show his feelings. The fact they were going to speak to someone else meant there was a chance Evie had been found, but that was what concerned him. He could tell this was going to be a long day and he'd need every ounce of strength. It was a good thing he had his daughter with him, at least he wouldn't be worrying about her too.
To be continued...