Rhythm Of The Buskers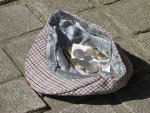 Tue, 16 Jul 2019
This a poem based on my
respect for those buskers
who spend many hours
entertaining crowds.
They are my heroes.
In this muggy...humid heat
playing fiddles on the street,
challenging musicians sweat
though begin in right mindset,
now they are ready to present
a song at their very first event:
here they come to perform for ya!
The Devil Went Down To Georgia.
Apprehension! Why there's none
as the strings tune up and strum,
weaving rhythm and some rhyme
for it's that all important air time.
Humble looser struggling to compete
respect to a winner kneeling at his feet,
been well tutored in art of persevering,
showing no nerves as audience cheering.
Crowds are stunned and amazed
at the way these two men played,
liveliness and swiftness of bows
expressing eagerness that shows,
Children dance as beat gets faster
two men play – each a real master,
lots of foot tapping from the crowd
clap along the audience are wowed.
Pixabay free image.