Riding Tandem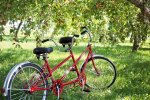 Thu, 13 Aug 2020
1 likes
Dear diary...it was 9th August 2020. Peeping behind the bedroom curtains at 7.30am on Sunday morning before anyone else was awake, the first sight that caught my eyes were two young lads riding tandem.
Apart from the fact that in all my years I've never seen anyone on a tandem bike in real life, it was the last thing I expected to see so early in the morning.
They cycled so fast down our street and passed our bedroom window that I hardly had time to catch my breath before they disappeared, but their serious faces gazing straight ahead and full of concentration like they were on a mission led me to recall the I P.
As I lay back down on the bed I started to wonder if they were just going home, or maybe off early for some big adventure, riding tandem and eating up the miles of road!
Or were they exploring their surroundings, just out for a bit of early morning exercise? Maybe they were getting ready to become part of a team leaving on a destination unknown, or for some long journey, maybe a trip from John O Groats to Land's End, for that I realized they'd need to do a lot of training. But what an adventure that would be, cycling through many towns and villages.
Maybe taking a chance and spending the night at some Inn, where they serve up hearty meals and you can sleep in a comfy bed. Or maybe they might sleep in some discovered shelter with a leaking roof hoping it wouldn't rain.
Rising on those early mornings, waking when it's still cool and the first rays are just on the horizon, the two lads would be ready to begin a new day. They'd be taking to the countryside, meeting new people along the way, maybe even being cheered on by onlookers. Then there would be those not so very good days where the weather could change and those two intrepid riders might be stuck in a thunderstorm, soaked to the skin and wondering what the hell they're doing, but knowing there's no time to stop when you're on such an adventure.
I thought about whether I could take to a tandem and cycle off with my partner into the great unknown, would there be many hazards we'd have to overcome? Then I pondered once again that these days I should stick to being an armchair adventurer, yes it's all up there in my head coming out of imagination and the many journeys of younger days.
I recall being caught out at night, lost on Bodmin Moor in such thick fog I've never experienced in my life. It was so horrifyingly treacherous and very cold, I thought me and my friend at the time would never find our way back to the road.
In the end we decided to kip down where we were in our sleeping bags on the very scary moor and hope for the best. With our ears to the ground listening out for any danger, we found it very hard to get off to sleep knowing what might be lurking out there.
The only sounds we did hear, were those of scampering feet which we detected as being creatures scurrying about probably more scared of us than we were of them. My biggest worry was snakes or insects crawling in my mouth while I slept. I often heard of people swallowing spiders in their sleep, it was a creepy thought and something I didn't want to experience. Thankfully we were okay, but it's certainly not a situation I would want to find myself in again.
However those cyclists got me thinking of how I always wanted to walk the Alfred Wainwright trail of the Cambrian Way, taking in the wild beauty and panoramic views of the black mountains of Snowdon, that can become engulfed in low clouds, yet clearly a vision to behold as many walkers enjoy the trek each year. How I'd love to have seen the cascading waterfalls of Cader Idris, or visit Conway Castle.
Treading those rugged paths of Snowdon are just a dream now. But those tandem riders have all the time in the world. As my thoughts come back to reality and I'm fully waking up, I still wonder at them passing my window, where they were going and what their story might be.
Pixabay free image.