Somewhere Faraway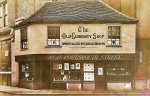 Tue, 15 Sep 2020
Down narrow footpaths,
ruffled feathered birds
leave behind flint
covered trails
and brushwood,
they choose to
venture for a time
inquisitive desires
bathed like mine.
I'm coaxed by those
improvised cobbles,
harking back –
antiquated in time,
the old curisosity shop
that never appologizes
for its musty silence,
but for the ringing bell
passing over threshold,
where objects
of obscurity
are positioned
complimenting
past reverie,
eager eyes studying a while,
comforted by some faint
heady lavender fragrance,
to kiss dreams of some
faraway place in memory.
Pixabay free image.