Summer's Blessing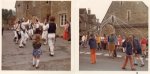 Sat, 09 May 2020
Does May tree hold that optimism,
that gentle language of late spring?
As people eagerly gathered
beneath Hawthorn's bloom,
I remember on village green
children clutching lavender,
those sprigs of scented flowers
that tell us summer's almost here.
Lost now in long tradition
a maypole once stood,
entertained with dancing
those Morris men would,
Shelter then! Oh sacred tree
those nesting in your limbs,
such creatures that hold fast
above climbing narrow ridges,
As time progresses we no longer
commemorate carefree uniting,
lost interlacing of dreams in the
return of summer's blessing.
Photos are my own.
Remembering my Holiday in 1973 at Laycock.