Like Sun And Moon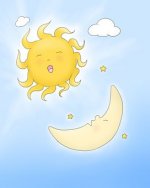 Wed, 09 Jan 2019
1 likes
Just turned eighteen or so 1973 old trusty diary tells her so, wore brown tea shirt with yellow butterfly motif that day with her usual black corduroy trousers, those ardent teenage years needing to look and feel as slim as possible, while at Temple Meads Station awaiting with excitement building, tummy full of fluttering butterfly wings, in suspense.
Strangers weaving this way and that like mad hatters, places to be people to meet, unlike this teen who had all the time in this world. Then! There's that voice over the loudspeaker announcing anticipated train to arrive on platform five.
It's been at least a year since they last met, she remembers the ad in Melody Maker: 'Hawkwind freak wanting to meet like minded others.'
Tension building, it's been far too long, gazing at watch leaves her wondering where that year has gone. She thinks! Time to act logically, don't want to seem too keen, boys don't find it very attractive.
As passengers leave the carriages, she notices him stepping from the open door, her heart skips a beat he hasn't changed in the least. Wearing flared denims, grey and blue Sergeant Pepper Jacket, long raven hair flowing passed his shoulders and that all familiar smile approaching...turning her to jelly.
He gives this teen a lengthy hug saying, " Hi! How are you?"
For a moment she can't speak, taking in his wonderful fragrance of patchouli she so adores. Finding words is so awkward, but finally she takes his hand and announces, "I'm fine. Come on let's go."
This teen only reaches to his shoulders, it leaves her feeling slightly adrift on an ocean of love, but trying hard not to show it. Picking up the pace they leave busy station and catch a bus into town. She takes him to all the usual haunts, Wimpy Bar on Baldwin Street where they share burger and chips. Walking around the old market, she notices there's something different about him, she's aware his physical attraction is both sexy and cold as ice at the same time, she feels like a ship in freezing water yearning for warmer climates as they wander along river path recounting last year's memories.
Evening came soon enough as they rocked into The Old Granary. Crimson Earth were playing that night, entertaining the crowd with a pint or two. There were kids hungry for music, shouting for more. He put his arm around the girl, drew her in closer his attraction like a magnet. The guy yearned to kiss those desirable lips, she could tell as raven hair brushed her cheeks, compulsion so strong, locking together devouring emotions. Then he pulled away, leaving her to wonder why? "Stop!" He said. "We can't do this anymore."
She was now gazing into cold eyes. There's indifference in his words casting her adrift once more. That's when he blurts out what he's been trying to say all night. "I've got a girlfriend back home...but I still want us to be close friends, you know I like you a lot."
Now he was like a jet black raven to her, she was in the thaw of his piercing eyes. This girl feels abandonment, afraid of loosing him, devoured by jealousy, filled with mixed emotions, it makes this teenager want to cling tighter in the hope he'll come around to loving only her. Sadly it's not to be and holding on only makes it harder. As moon and sun go their separate ways, so does this girl and boy.
Image from pixabay free.