A Trip To Torquay A Night To Remember Continued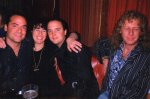 Mon, 21 Sep 2015
Dear Diary...this was a once in a lifetime experience for me, so while floating around from room to room on cloud nine, full of exhilaration, I was prepared to make full use of the evening, deciding that if I made an ass of myself I really didn't care.
It was during the end of the show and I'd been chatting with some of David's fans, then, I noticed Jerry and Jimmy sitting chatting, so with yet another glass of wine in hand, I made my excuses and told David's fans I'd speak to them again later. Feeling brave I took a deep breath and made my way over to the two guys. As I approached still grinning like a Cheshire cat, they both looked happy to see me and asked what I'd said to David when I went on stage.
Informing them about the heart I'd given him, I then began telling the guys how wonderful they were and that it was a pleasure to hear them play. They both thanked me and then said I should sit down and have a chat with them. They'd spoken to hubby and he'd told them about my love for David.
They wanted to check out my souvenir book. It fascinated them to read about the Monkees back in their hay day, coming to England and playing at Wembley.
I then told them I was going to ask David to autograph my book. In fact he did sign it, love David Jones, too which I was now ecstatic. Jimmy and Jerry were also surprised that I still had my Wembley tickets and told me I was a true fan.
By now the evening was one of the biggest high's I'd ever had, we laughed and joked and I found the guys had the same sense of humour as me, especially Jimmy. We fooled about a lot and I had my photo taken with them, leaving me completely star struck once again, in the arms of these two gorgeous hunks.
There were so many other wonderful fans there and I made friends easily, especially with a girl called Sam who came with her sister, she couldn't believe how forward I'd been getting up on stage. I said to her, "I'll never get this opportunity again, so I'm going to make the most of it." I think I fed her enthusiasm too.
While hubby went and bought some raffle tickets, me and Sam plotted and schemed plans to somehow get together with David and the band, though I realized as the evening went on, that this probably wouldn't be such a good idea being a married woman, but Sam was younger than me and enjoying making plans so much, I went along with her ideas.
One guy came all the way from the Isle-of-Man, he was so entertaining and wore a jacket of many colours, covered in flowers, he was so cool...I just loved fun people. Also there was a bubbly lady named Claire who came all the way from Brussels. I could hardly believe the distance some had come. I think the Japanese ladies had come the furthest though.
We were having such a zany time, that I never heard my name being called out and didn't know I'd won a signed vinyl album of the three Monkees, David – Peter and Micky, because by now Mike Nesmith had left the band.
Hubby came up and told me to go to the stage and receive my prize, I couldn't believe it...me winning! I'd never won anything in my life. This was definitely a momentous occasion.
To be continued...