Romance Killer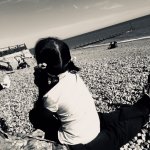 Thu, 03 May 2018
2 likes
Seventeen years married today;
you're still at work;
Leah-Lyd and I
basking in a recent tradition
of eating Marrocco's ice cream
on the beach in
what now truly feels like spring.
She's bubbling around
on my lap with her back to me,
facing the sea and
spinning her cone,
trying valiantly
though in vain to
lick up the melting
vanilla ice cream.
I've just had a message
from Luc-John;
he's going to Muay Thai
this evening with Ben,
which puts paid to my
hopes of a meal with just
the two of us.
He's doing really well.
"So you'll be coming to dinner with us, Nonsense,"
I say to Leah-Lyd
who affords me an unsurprised nod,
not breaking from her drama
with the ice cream
or even for that matter,
turning around.
"The ultimate romance killer," I sigh.
She gives a little jolt
and I feel a few drops of
ice cream land on today and tomorrow's
work trousers.
Leah- Lyd turns from the cone,
squinting in the four o' clock sun
and searching out my eyes
through my sunglasses.
"Why will there be Romans there, Daddy?" she asks.