Silas Nash Book 1: Hush Hush Honeysuckle: Chapter 33 (A)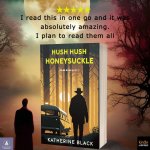 Sat, 16 Sep 2023
1 likes
Linda banged her gavel on the table. 'On the charge of being a despicable human being who has no right to walk this earth or have the get-out clause of dying a natural death, do you find the defendant guilty or not guilty?'
'Guilty as charged.'
'Fiona Finch, he denied your baby and withheld any responsibility. How do you find the defendant?'
'Guilty as charged.'
'He cast you—and me—aside like rubbish. How do you find the defendant?'
'Guilty as charged.'
'And what say you? What should be his sentence?'
'I'm sorry. I'm so sorry, girls. If I had to do it again, I'd do it differently. I promise.'
'Girls.' Fiona said. 'He still calls us girls as though we are nothing.'
'What about all those innocent people, Fiona? Why?' Nash said.
'We wanted to squeeze every ounce of pain from him that we could. Don't you see? When women can be controlled and treated so badly, it means that life has no worth. A child's life, a woman's life. Even an old man who has served his use to society. It all means nothing. Just so long as the Company Man gets to play with his wealth.'
Max struggled against his bounds and tried to free himself from the stock holding his head in place. 'I've never heard you sound so bitter, Fiona. You were always such a sweet little thing. I'm so sorry for what I did to you.'
'You destroyed our child, and for that, other children have had to die. They were the same age as our baby would have been. I've looked forward to saying this since you left me to deal with the abortion on my own and brought such shame on my family,' Fiona said. She nodded at Linda.
'Foreman of the jury,' Linda said. 'What say you, Fiona Finch? What should be the fate of this fallen son of God?'
'Off with his head.'
'Now,' Nash shouted, and the room filled with officers. He held up his hand to stop them from going near Linda, who still clung to the rope and looked surprised at the room filling with people with rifles aimed at her head.
'Go on, shoot me. My life's as good as over anyway. But let me say this. It was worth it, and by the time your finger moves, the bastard's head will be on the floor.'
'Do it,' Max screamed.
The men circled both women, and Linda tried to regain control of the situation. 'Stop, or I'll drop the rope.'
'But you only have one second of glory, Linda,' Nash said. 'It's not as though you have a submachine gun that can do a lot of damage to a lot of people. You only have one trick. All you get to do is drop a rope, and your second of glory is over. You have to pick your second wisely, you want maximum impact, and now you're surrounded.'
Her hand twitched. She was going to let go. 'Wait,' Nash shouted, and she stopped. He laughed. 'See, Linda? Your decision can be halted with a single word. You have no follow through.'
She screamed, and Nash was in the position of control now. While he'd been talking, the men behind her were closing in, a millimetre at a time. Tiny movements to get them closer to the woman holding the rope that, once let go, would decapitate a man. Fiona was out of her depth. The room was full of people in riot gear. She picked up the champagne bottle, but it was always going to be a useless weapon.
Nash gave the nod. He'd never been so scared for a man's life in his life. Linda Evans held the rope—but symbolically, so did he. If he said one wrong word, he would be killing Jones as much as Linda. His gambit relied on split-second timing, and if he got it wrong, he'd never forgive himself. Linda was confused. The team had swarmed the room out of nowhere, and the reason she hadn't let go of the rope at that moment was ego. Nash knew she wanted everybody's attention when she killed Maxwell Jones, and the place was swarming with the confusion of bodies.
On the nod, two men rugby tackled Linda, and the same happened to Fiona.
Linda let go of the rope.
A third officer was standing by with his hand ready. He caught it at the precise moment that Linda fell to the ground with a piercing scream and let go. He was wearing gloves. It could have gone so wrong. He caught the rope, wrapped it around his hand, and the blade stopped an inch from severing Max's neck.
The men were on top of Linda and Fiona. Nash had his hands on his knees. He had to calm his breathing. That was one call that was too dangerous. He'd hated playing God and having to make it. He was only a humble man. The adrenaline had poured into his body too fast, and he had red spots in front of his eyes.
Jon Si. It made sense now. Amanda Keys didn't try to write, Jon, Silas. She was trying to write, Jon's sister. Why the hell didn't he see it sooner?
They had the women subdued, and it should have been over. Nash took his jacket off and draped it over Max's bloodied body to give him some dignity while they got him out of the contraption. He removed the crown of thorns and winced as he had to pull some of the thorns out of Max's flesh. It was important to him that Nash be the one to do that for him.
But the door opened, and a pre-pubescent voice said, 'Keep walking, bitch.'