Starry, Starry Night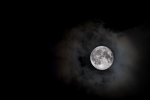 Mon, 05 Oct 2015
1 likes
Silence encompassed the village. Faint trails of wood smoke wound a sinuous way up into the cloudless night sky. The heavens a soft velvet blue with pinpricks of starry light. Boy pulled feet and hands into his covering and watched as his breath escaped in wisps joining the smoke trails on their journey into the vastness of space.
Trees and grass had acquired a silvery mantle of frost. Boy was entranced for a moment as he noticed the perfect symmetry of a spider's web delineated and sparkling in the moonlight. Hugging himself to keep warm he felt the furry body of Dog pressing himself into his side hoping to share heat and comfort. He pushed his hand out and fondled long, silky ears and was rewarded with a sloppy licking of his hand.
Dog had been found when he was a tiny cub, hardly weaned, wandering alone in the woods and yelping miserably. He had stolen Boy's heart. He had tucked him under his clothing and had nursed him back from the edge. Father had laughed, 'He'll never live. Leave him out for the wolves. They'll take care of him.'
That had been more than four Winter's ago and they had become inseparable. Dog had grown big and strong and Boy's family were grateful for the protection he gave them.
'Look Dog, look at the moon. See how beautiful it is. Imagine, being like birds soaring and exploring, even landing on its surface.
Dog whimpered.
'Don't be afraid, I'll never leave you.'
Boy felt Dog's body stiffen and his ears flattened against his head. He was staring into the darkness of the woods, his lips pulled back from his teeth.
'It's a rabbit, nothing to be scared of.'
But Boy was beginning to feel apprehensive. Suddenly a large cloud covered the moon and darkness crept across the land, almost like an immense hand attempting to grasp all in its path. He pulled Dog closer to him and could feel him trembling, running his fingers through the silky fur in an attempt to calm both of them.
The cloud gradually cleared the moon and once again all was almost as light as daylight. Dog growled again, stood up and began to walk towards the trees. Boy saw a shape emerging from the darkness, a large ghost like shape. Its fur seeming to absorb and reflect all of the light from the moon.
Father had warned him about this creature. Not just Wolf but White Wolf, the leader of the pack. The biggest and strongest of them all, unlike the rest of his kind he had no fear of man.
Dog crouched low, his fur stood on end as he made his slow approach to White Wolf, his role to protect Boy. Boy tried to grab him, pulling at his fur. Wolf stood still, watching and waiting almost as though he knew what was to happen. It seemed as though time had stopped.
Boy held his breath as Dog got closer. He was convinced that his faithful friend and protector would be killed in his attempt to save him. He could not move, knew there was nothing he could do.
Suddenly Dog stood tall, his fur, his white fur, relaxed back against his body as with confidence he approached his adversary. The amber eyes of Wolf glinted, and Dog's eyes seemed to mirror this. They were now within breathing distance, within killing distance. Nose touched nose, an acknowledgement of kinship. The wild wolf and the tamed dog at one with their common ancestry.
White Wolf turned and disappeared into the trees. Dog resumed his position at Boy's side.
The moon rose high in the sky and the primitive howl of Wolf resounded through the valley.