above below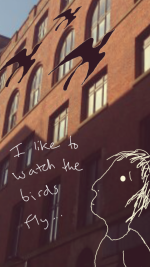 Tue, 08 Apr 2014
Over cross-stitched grids and circuits it flew,
Over tapestries of tenements,
Over states of slate and clay.
Over monuments to industry it flew,
Hued terracotta red,
Thick-skinned and hot blooded,
The living brick.
Over brazen faced history it flew,
Over bluster and brass,
Over grand visions of weight and promise it flew.
Over clean cut and concrete characters
Lined shoulder to shoulder with the old stock,
In fashion with the old-fashioned, it flew.
Over vain and glamorous glass it flew,
The sum of its reflections,
Beguiling peaks that mirror desires,
The masks of cultural reduction.
Over tarmac tributaries it flew,
Watching the machines slide through,
Tiny dolls bursting from them,
Scattering, slipping, dancing and dodging,
Designer animals of their own special brand.
Over crowds of them it flew,
Congregating, clamouring,
Caught without conceit,
Shed of coverings and British guilt,
Blistering lightly in the hot summer air.
Opportunity struck,
A discarded crust,
A cheesy corn puff,
The pigeon dives and scores its prey.
It bobs and cocks and swivels its head,
Struts and kicks and chances its feet,
Observes a small child
Delivering crumbs,
Battles for them in the sudden clamour
Of claws and wings.
A mother watches, smiling,
Seeing her girl happy.
A father smiles too.
"So, do you think you can give me another chance?"
She curves her palm,
Cups her lover's cheeks,
Knows that in his eyes there is a love,
A love that is just for her.
She whispers.
"No."