Camp Echo - Chapter 12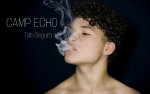 Tue, 25 Feb 2020
Chapter Twelve - Radar Love
second edition
"I hate coming in here in the morning to a pile of dirty dishes." Max stood in front of the sink staring at the aftermath of the meal nobody had bothered to wash up.
"Hey, I'll help," Nate came over to stand next and nudged him.
Max turned and smiled, leaning over to plant a kiss on those lovely soft lips. "What did I do to deserve you?"
"I don't know. Perhaps you just got lucky," Nate laughed.
They tackled all the dishes and plates, drying and stacking them away in the cupboards. Max brought over two mugs of coffee and sat down opposite Nate at the table. It seemed no one else was up.
"I thought maybe we could spend the weekend together?" Max looked over at Nate taking a tentative sip of his coffee.
"You know I would, but this weekend I really can't."
Max fell silent, obviously disappointed.
"I'm sorry, Max. But it's my little brother's birthday Saturday and we're going skiing for a week, in France. My parents arranged it all." He sounded apologetic as he told Max.
"I won't see you for one whole week?"
"Yeah."
"When do you leave?"
"Tomorrow afternoon." Nate stood up, walked around the table. He put an arm over Max's shoulder and this time it was Nate who leaned in to kiss Max. "I'll see you when I get back." He looked directly into his eyes.
Max smiled. "Sure. Now we're together. But one whole week. What will I do?"
"We're together? You said..."
"We are aren't we?" Max studied him. "I told you, I'm not Aeriol. It wasn't just a one night thing. Not for me, anyway."
"Not for me either," Nate planted his lips on Max's, and it was a long kiss.
"You know, I don't even know where you live?"
"No, but I know where you live."
"Can I have your number?" Max looked up at Nate.
"You can't phone me at home." Nate went back to the other side of the table and sat down.
Max felt all of a sudden it had got cold in there, but it was always cold in the mornings. "Okay, never mind. Promise me you'll call when you get back."
Nate looked like he relaxed. "Yeah, I promise."
They finished their coffee and took a quick shower, not together. The shower was in the bath tub, no room for two. Nate headed out the front door and Max watched him walk up the road, then disappear around the corner. He sighed, closed the door and wondered just what had happened, or would happen. He hadn't had any relationship that lasted, leaving aside Aeriol, and that was something different.
For once when Max and Aeriol got back home from the afternoon shift at the warehouse, Jules was not there. It was empty, silent, and cold. They'd finished early, it had been easy, not too busy. Max's thoughts were well and truly focused on Davy. He had said he would be coming over; if he kept his rendezvous, he would be here in just under an hour. Why had he pursued this kid? Max asked himself the question, but had no answer. Perhaps he was obsessional? He seemed to remember convincing himself that he needed to know what was going on with Reuben and the way to find out was through Davy.
That all seemed so long ago, he'd moved on, found Nate. Though it was Aeriol, of course, who found Nate, not him. But now he possibly had a chance of something different.
"You're like a million miles away!" Aeriol walked across the front room and collapsed onto one of the giant bean bags.
Max followed him in and stood there, not looking at him; not looking at anything.
"What's up?" Aeriol propped himself up and stared at Max.
"Nothing. Davy should be coming over. I was just thinking about that."
Aeriol smiled, "With your brain or your cock?"
Max sat down on the old vinyl sofa. "I'm not you, Aeriol; it's not all about sex."
"If you say so. But, I bet it was with Nate."
Max sighed, he didn't want to reply. As Aeriol was sliding over towards the record deck, about to brighten up their coming home with some music and a joint, the phone cut in with its metallic ringing. Max picked up, he was closest. "Hello!" He turned to Aeriol, "It's Jake. He wants to talk to you."
Aeriol got up and walked over to take the receiver. "Yeah!"
Max left him alone and went down the hall to the kitchen. He wanted to see what there was to make into a meal. He would invite Davy to eat with them, that seemed a reasonable move. Whilst opening cupboards and mixing ingredients in his head, Max put the kettle on. He had just put a tea bag in his mug when Aeriol walked in.
"Jake's coming over later," he announced.
"You want some tea?"
"Yeah, good."
Max popped another tea bag into a second mug and poured the boiling water, being careful the little string on the end of the bag didn't fall in. It was amazing, he thought to himself, that someone had actually come up with the idea of a pyramid tea bag with a string which could be pulled to squeeze the infusion into the mug. Were people really employed to look at stuff like that?
"What's he want?" Max wasn't too pleased and his annoyance showed.
"The Germans will be coming round. That's what."
Max discarded the tea bags in the bin, stirred the sugar into Aeriol's mug, added a touch of milk. "You're doing your fucking deal here. Shit!"
Aeriol didn't reply. He just sat down at the table and waited. Max placed the mug in front of him and sat down next.
"You know I didn't want to be involved."
Aeriol nodded. "What could I do? It was all arranged."
"And Davy?"
"They're not coming till late. So make sure he's gone."
Max sipped the hot tea. "And..."
Aeriol cut in. "Get him in your room and stay there."
"I wasn't thinking of that. You have a one track mind."
"So, if you aren't gonna sleep with him. Chuck him out before they arrive. Where's the problem?"
Max gave in, like he always did. There was no point making a scene. Like Aeriol said, it was already arranged. It just made him dislike Jake even more. That guy walks over everybody and twists his little brother around his finger.
It was good Davy had accepted the invite to come over, because Max was not even sure he would have recognised the kid standing at the front door.
"Come on in. It's up the stairs," Max stepped aside to let him in.
"On the right. Down the hall." He followed Davy into the front room.
The Moontan album was playing; Radar Love was blasting out.
Aeriol was spread out on the floor smoking another spiff. A thick cloud of pale grey smoke ballooned up into the air; the atmosphere was heavy, permeated with the unique sickly sweet odour of weed. The album cover was lying on the floor, that cover was erotic. This is the original album by the Dutch band that Aeriol had, it showed a naked guy, rear view, dancing with a figure in a protective metallic suit, all in shades of blue. Of course, it got censored in some countries like the States, but that's no surprise, it was very fucking sexy! Davy took in Aeriol, the album cover and smoke filled lounge, all in one shot.
"If you want to go to my room?" Max offered.
"Nah. It's fine," Davy sat down next to Aeriol, on the other bean bag.
He put his helmet aside and took the joint Aeriol proffered. They smiled at each other. Max reclaimed his earlier place on the sofa opposite and watched Davy. When he'd taken two good tokes, Davy got up and passed the joint to Max. Their hands briefly touched. A sensation which was heightened by Davy staring straight into Max's eyes.
"So you guys share?" Davy had not moved.
"Yeah," Aeriol replied.
"Cool."
Max walked across to Aeriol and handed him the end of the joint.
"And you?" Aeriol learned over towards Davy as he inhaled.
"At home," the boy smiled.
"How old are you?"
"Sixteen. Why?"
"No reason," Aeriol lay back down in the bean bag.
"You wanna stay and eat?" Max had a million thoughts buzzing around in his head.
"Sure," Davy replied, then added, "Thanks."
Max left the two of them to go and put the lasagne in the oven. He sat down at the kitchen table to think for a minute. But no plan of action came into his head; what to do with Davy? As he was about to leave the lasagne cooking, the boy walked in.
"He's pretty stoned," Davy smiled at Max, "your friend."
"It's the weekend," Max avoided looking at Davy, because he couldn't think what to say or what conversation to have.
"You like me, right?" Davy joined Max at the table.
"Yeah. I mean..." Max was lost. He had no idea how he had managed to get himself into this.
"You don't know?" Davy was sitting next to Max. His hand reaching under the table came to rest on Max's leg.
The image of the naked guy on the album cover merged with a recollection of Reuben doing exactly the same thing in the art house cinema. And like that previous time, he got immediately hard. Jonathan's voice played in his head, "Well of course you would, darling!" The boy's hand was brushing against his erection.
"Davy," he almost sighed his name.
"I know why you wanted to see me," Davy moved his hand away a little, but kept his palm resting on Max's thigh.
"You do?" Max was having trouble working out the sense here.
"Yeah, I do."
"Why did I want to see you then?"
"You're curious."
"About what?" Max turned to look at him, only to find himself inches from Davy's face.
"You want to know what Reuben and I did. I'm right, aren't I?"
"I suppose. Yeah, I was wondering. Like, after Reuben said stuff."
"Don't be shy Max. Stuff?" Davy gave him a stern look.
"Alright. When he said what he was and wasn't into."
"No, no, Max. I bet he never said what he's into."
"Why'd you say that?"
"Because that's Reuben. I've known him nearly a year. He never said what he's into. Never."
"And you?"
"Me?"
Max took a deep breath. "What did you do?"
Davy pushed his chair back and stood up.
"How long before we eat? I can't stay late."
Max registered that last statement. "Not long. Twenty minutes or so." He followed Davy back to the front room.
Jules had been absent for a couple of days and it seemed odd the three of them sitting down to eat when Davy had taken up the third place. Max was thinking more about this boy, than he was about Jules' disappearance.
"You like it?" He asked.
Aeriol nodded.
"It's really good," Davy replied, which made Max smile.
He wasn't bad at conjuring up a meal. It always seemed to work out best when he was both hungry and willing to put a little effort into it, to spend the time. The only thing was, he could never quite produce the same meal twice. His expertise, if you can call it that, was in mixing available ingredients together, not in following recipes, even his own. Although he did some standard meals, of which a veggie lasagne, in all its variations, was one.
They mostly ate in silence, Aeriol absorbed in eating in the way only someone who is stoned can be. Every mouthful was an explosion on his taste buds. Davy was being very attentive to Max. The highlight of this focusing was when he cut a small piece of lasagne and offered it to Max on the end of his fork. That was a first, and suddenly Max was as hard as before.
Aeriol left them in the kitchen and slouched off to the lounge to crash out on the floor. They heard the music playing.
"Which is your room?" Davy asked as they did the dishes.
He was standing by the sink, drying the plates, very close to Max.
Finishing up, Max turned to him, "Come on then, I'll show you."
Davy looked around the room. It was quite bare. The large futon mattress spread out on the floor facing a large window, an old chest of drawers and wooden chair. He stood for a moment looking out the window, but it was dark outside and only vague shadows existed.
"I know what you and Reuben didn't do. But what did you and him get up to?" Max was talking to his back, watching him looking out the window, seeing his reflection in the dark.
Davy turned to look at Max who was now sitting on the futon, his back propped up against the wall by a pillow.
The boy walked a step closer. "What do you imagine?" He grinned.
"I could imagine loads of things." Max smiled.
Davy simply stood there, at the foot of the bed, legs slightly apart, looking down at Max.
"You know you're very sexy? Standing there. Like that." Max was excited looking at the boy in front of him. What he imagined right there and then, was what he was doing in his head, undressing him. His eyes roamed the slim form, his body reacted.
Max had just agreed to meet up with Davy at his place, when the doorbell rang. "Aeriol will get it. If he can move," Max laughed.
Davy smiled at him. "So Wednesday?" He asked.
"Yeah," Max stood up and brushed a hand through the boy's mop of dark hair. He pulled him close and their lips touched once again in a tender and passionate embrace.
"I need to get my helmet. Left it in the front room."
Davy retrieved his stuff from the front room and they said goodnight on the landing as Aeriol came upstairs with Jake, Jan, and Tobias.