Hell on Wheels - Part 3 of 3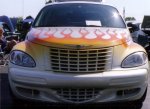 Sun, 05 Oct 2014
Satan picked up the coin and examined it closely; He then promptly hurled it at the man who had given it to Him, making it bounce off the back of his head.
'I do not need your pity you pathetic stain of a human!' shouted Satan at the now very bewildered man who was nursing the back of his head.
'Err…I'm sorry, I just thought…' began the man.
'You thought what?' bellowed Satan.  'You thought I would actually be grateful for your miniscule pittance, you snivelling toad.  I am The Fallen Angel, His Infernal Majesty and you will bow to Me!'  All this was too much for the poor man who out of one act of kindness was now being yelled at by a foul smelling creature who had an uncannily large vocabulary.  He did not know what to make of it so he decided not to, and so he started to walk away, quite faster than normal.
'Do not turn your back on Me, mortal scum!  I have not finished with you yet.'  Satan dug His already battered fingernails into the pavement and started after the man who was rapidly increasing his speed.  It was safe to say that Satan was not having a good day and He was going to take out His frustrations on someone if it killed Him.  He pulled Himself along in jagged spurts, slowly gaining on the man who obviously did not think that this bizarre man with no legs was too much of a threat.  When He was back within earshot Satan resumed His torrent pf verbal abuse.
'Come back here you fetid pile of putrescence!  I shall be sated, I shall have retribution!'  Satan did not take His bloodshot eyes off the man who was now looking nervously over his shoulder almost every minute.  With a quick course change the man turned off into another street.
'Do not think you can escape!' shouted Satan at the retreating figure.  'I shall find you wherever you hide and when I do I will destroy…no, not there!'  The man had reached a steep hill and was now getting further and further out of Satan's reach.
'Not uphill, you bastard!  My legions of darkness, they have legs and if they were here…' but it was too late, the man was gone.  In one last attempt to incite terror into the hearts of mortals He called up the hill, just in case the man was listening.
'I'll get you on the way down, you elusive mortal.'
After that brief scene of causing a lot of people to stare bemusedly at Him Satan sat back in His cart and pondered on what He could do to the man if He ever ran into him again.
Kill him, said a voice inside His head.
No, torture him, then kill him, said another voice.
How about burn him then kill him?  asked the first voice.
Nah, torture's better.
Burning can be torture, ventured the first voice.
Not the way we do it, reasoned the second voice.
I still say we should burn him.
Torture.
Burning.
TORTURE!
BURNING!
One of the drawbacks of being Satan, Prince of Darkness was that whenever there was a battle of conscience it was not a struggle between Good and Evil because there would most likely be an official enquiry if it were discovered that Satan had a good side.  It was quite literally a struggle between Evil and Evil, which actually took longer than your average Good vs. Evil dust up.  Both sides were as evil as each other and neither wanted to back down so any internal conflict took a lot longer than normal, and this was what Satan currently had to endure.
So we're agreed, we torture him, burn him, torture him some more and then smear him in meat paste and feed him to the dogs, right?
Whose dogs?
Shut up you.
While this was going on Satan could not escape that nagging feeling He had been having on and off since He awoke in this mortal nightmare.  It was as if His new body was trying to tell Him that it needed something, but what?  However, He did not have much time to think about it, as His thought process as well as the raging inner turmoil going on in His head was interrupted by someone calling His name.
Intrigued, He began wheeling Himself toward the source of the noise and when He rounded a corner He was both delighted and disappointed.  Because there, on a street corner, was a wild eyed man with a Bible, preaching the word of God, sadly not someone who could help Him out of this predicament.  Ordinarily He would just ignore such people, branding them as simple fools but today had taken its toll and He was feeling particularly vindictive.  He moved Himself in for a closer look and as He expected this man was spending more time talking about Him than God.  Satan could never understand why people who were supposedly against everything He stood for spent so much time talking about Him.  On the surface it would appear to be quite flattering, if they would just stop getting so many things wrong.
The man was gesturing erratically and pointing a jabbing finger at anyone and everyone while he tore into his Fire and Brimstone routine.
'And if you do not repent your sins you will be cast down into the seven fiery spheres of Hell…'
'Eight,' said Satan.
'And…pardon?' said the man, stopping dead in his dogmatic tracks.
'There are eight fiery spheres of Hell I'll have you know,' stated Satan in a very matter of fact way.
'How do you know?' asked the man, now intrigued by this obvious poor wretch who thought he knew a thing or two about The Bible.
'Because I told the builders I wanted eight, that's why.'  Satan was beginning to enjoy Himself and the man was so engrossed in this new line of conversation that he had left his arms in mid gesture.  He returned them to his sides and fixed Satan with a highly patronising smile.
'My son…' he began.
'I am not your son, I assure you,' said Satan, very relieved that this was true.
'I merely meant…'
'I know what you meant you sad puppet of a man.  If you insist on dragging My name through the mud you can at least have the decency to get the facts right.  What would I want with seven spheres?  I mean that's just silly.'
The Bible toting man was now utterly befuddled; he had not got a clue what this raving derelict was on about.
'Just who are you?' he enquired.
Satan drew Himself to His new full height, which was considerably less than the day before and looked him squarely in the eye.
'I am Satan, Lucifer, Prince of Darkness,' proclaimed Satan in what He hoped was as dignified manner as it sounded in His head.
A brief pause, and then…
Laughter.
The assembled crowd, as well as the man had erupted into fits of hysterical laughter.  One woman had to lean against a lamppost to stop from falling over and the erstwhile speaker had dropped his Bible in order to hold his sides.
This did not please Satan one bit.
'I am The King of all that is Evil and you will all stop mocking Me!'  Satan's bloodshot eyes were darting from one chuckling person to the next but no one was paying Him any attention, they were all crippled with hoots of shrieking laughter.  Eventually the man regained his composure, picked up his Bible and dusted it off.
'Ah my friends,' he said, wiping a tear from the corner of his eye.  'This poor man is living proof of what a life of sin will bring you, nothing but despair, destitution and delusion.  Embrace the word of God and avoid a life like his.'
Satan had heard enough, what was the use of baiting some random preacher if He could not prove who He was?  He turned His cart around and set off back round the corner, muttering to Himself all the way.  Not caring if He got in anybody's way Satan made His way back down the high street, cursing Gerald's name once again and watching as His Revenge List got bigger and bigger.  He was passing an open doorway when…
It hit Him.
That smell.
He had never smelled anything like it before but his body seemed to know what it was and it liked it, it needed it.  This smell brought that nagging feeling galloping to the forefront of Satan's mind and now all He could think about was finding the source of such an intoxicating aroma.  He looked around this way and that, sniffing the air, trying to locate where the smell was coming from and suddenly He saw it.  On a counter in the shop that He had stopped outside, there it was.  He squinted and carefully read the label on the bottle.
Methylated Spirits.
He had no idea what that was but every fibre of His body was screaming yes, yes, yes!  His body was telling Him that He needed some of that; He needed it as soon as possible and He even found that He had begun to salivate involuntarily.  He wiped His mouth with the sleeve of his grubby jacket and wheeled Himself into the shop, as if it was the most normal thing in the world.  As soon as He was over the threshold the place went dead, everyone in there stopped what they were doing and looked at Him with a range of expressions, all of which could easily be tied in with disgust.  The bravest employee in the shop ventured forth, trying to not to make eye contact.
'Err, excuse me but what are you doing?' asked the lady, very uncertainly.
'I must have a bottle of this strange blue liquid,' replied Satan flatly.
'Aha, and what do you need it for?' pressed the lady, suspecting she knew the answer already.
'My body keeps telling Me that I need it so be gone with you and allow Me to finish My task.'
'Ah sir, you see the problem is…' began the nervous woman.
'The problem will be all yours if you do not leave Me be!' said Satan, raising His voice just a little.  He was far too preoccupied to give this interfering mortal a real telling off so He continued in His quest to satisfy the now hollering desire to be very near the blue liquid.
'But…' tried the woman one last time.
'Leave My sight at once!' erupted Satan, fixing the now trembling woman with a murderous glare that would be hard to top even in His true guise.  This was sufficient to send her scurrying back to where she had come from, leaving Satan to help Himself to His bounty.  He loaded as many bottles into His cart as He could fit and then turned around to leave the shop.  Another plucky employee decided to play at being a hero and ventured out round the side counter.
'Err…sir…' he stammered.
'WHAT?' screamed Satan, His patience having not even bothered to come to the mortal world with Him.
'Nothing.' squeaked the man very feebly who could not get back round the counter fast enough.
Satisfied that He would not be challenged again Satan left the shop and headed down the nearest alley.  As soon as His cart came to rest He wrenched the cap off one of the bottles and took a series of long, glorious gulps.  It was bliss, like a party in His mouth where everyone was maiming small puppies.  His body sagged with visible relief as wave after wave of blue liquid flowed down His throat in delicious succession.  Before He knew it He had completely finished off one bottle so He tossed it aside and was about to open the next one when a pile of rags He thought was just part of the scenery began to move.
Satan edged back, prepared to defend His newfound best friend at all costs but the movement did not result in anything threatening.  Instead an equally dishevelled looking old man arose from the bin bags and pizza boxes and fixed Satan with an enquiring glare.  Both men gave each other a look that implied there was more going on than what appeared on the surface.  Satan placed His remaining bottles of Meths underneath His rank blanket out of sight and wheeled in closer for a better look.  At the same time the other man did the same and Satan was shocked to see that this man had been stricken with a similar fate as His, he had no legs either.  They both moved cautiously towards each other, wheels squeaking and puzzled looks on both their faces.  They were now inches from each other, searching eyes looking each other up and down.
They made eye contact.
And realisation dawned.
'Oh God,' sighed Satan.
'Go to Hell,' said God.
'Wish I could.'
- The end
- January 2003