Voice (Part 4 of 5)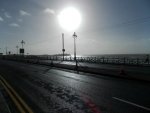 Sun, 31 May 2015
Mixing the poison turned out to be a lot harder than Michael expected, although, when he analysed his thoughts on this, he had to admit that he didn't really know what to expect. He went to work as usual and tried to keep his mind on his job, but that was no easy task.  Knowing that each evening he would be returning home to carry on working on a murderous concoction that he'd be giving to another human being in order to end their life was not a thought easily shaken.  Fortunately, Michael was good at his job, and this afforded him a certain degree of autonomy around the office.  This meant that no one really saw how distracted he was during that week.
The weekend came, and Michael had to cancel some plans with friends to put the finishing touches on the poison.  Dr Baker would be coming to see him on the Monday, and he had to be ready.
As he worked a thought struck him that instantly had him worried.
'How quickly is this going to kill Dr Baker?'  He felt cold and callous for asking such a question, but he felt he had to.  'I mean, I know you've said this stuff will be untraceable, but if he dies in my office I'm going to be involved in the investigation, aren't I?'
'Providing you mix the elements just right,' said the voice.  'It should kill him in a matter of seconds.'
'What?'  Michael was suddenly gripped by panic.  'How am I supposed to explain a man dropping dead in my office right after I hand him a drink?  Don't you think that's going to look a touch suspicious?'
'It won't matter,' said the voice.
'How?'  Michael could feel doubt over the whole plan seeping into his mind.
'Because when Dr Baker dies in your timeline, he won't exist in the future to put MindSet into manufacture.  That will effectively erase what I call the present and your timeline will snap back to before I contacted you.'
'Will I remember anything about this?'
'You won't be able to,' said the voice.  'Because it won't have happened.'
'But what if you're wrong?  I could go to prison for the rest of my life for murder!'
'It won't go wrong, Michael.'  The voice was reassuring but firm.  'I know what I'm doing, and the information I have in my timeline means that, as long as you do what I tell you, this will work.'
'I hope you're right,' said Michael.
'I am.'
*           *           *
Monday came, and the mixture was finally ready.  Michael felt what had become an all too familiar squirm of guilt and tension in his stomach as he poured the clear, odourless liquid into a flask.
'Strange,' he said, almost to himself.
'What is?' asked the voice.
'This stuff looks so harmless, but knowing what it's going to do… it's a strange duality.'
'That's how I feel about MindSet.  A simple innocent pill that boasted so much promise: all the while hiding a terrible secret, one that we wouldn't know about it until it was too late.'
Both Michael and the voice were silent for a moment.
'But that's all about to change,' said the voice, perking up.  'Just make sure that Dr Baker takes a drink.  He has to take the poison.'
'I'll do my best.'
'You have to, Michael.  For all our sakes.'
*           *           *
As Michael made his way to work, he found that he couldn't meet people's gazes as he passed them.  It was a similar feeling to when he was buying the various ingredients for the concoction that was stored in the flask in his bag.  He knew what he was up to, and he was terrified that the guilt and fear that seemed to pulsate through him would somehow become noticeable to others.  He worried about being found out, but at the same time he worried, perhaps more, about taking another's life.  He tried his best to concentrate on the lives that he would be saving by doing this, and eventually he made it to his office.
'All set?' asked the voice, as Michael closed the door to his office.
'I've just got in,' said Michael.
'Good.'
A thought began nagging at Michael.  It somehow made itself heard amongst the jumble of worried and tangled thoughts that were barraging his mind that morning.
'What if Dr Baker says he's not thirsty?'
'He has to take a drink, Michael.  Whatever it takes, he has to.'
'I'll try, but I can't force him.'
The voice didn't say anything for a minute or two.  This worried Michael.
'Hello?'
'Go to the vending machine,' said the voice at last.  'Buy a packet of cheese and onion crisps and pour them into a bowl.  Put the bowl on your desk where Baker will see them.'
Michael frowned at the oddly specific instructions.
'Why?' he asked.
'Just do it!'
In the absence of any other ideas on how to ensure Dr Baker took a drink, Michael left his office and trotted quickly down the corridor.  He fumbled nervously in his pockets for some change and bought the packet of crisps.  He avoided making small talk with another employee at the machine; his stomach in knots.  Michael took the crisps to the staff kitchen, took a cereal bowl out of one of the cupboards and emptied the crisps into the bowl.  Returning to his office, he still felt nervous.
'Will this work?'
'Yes.  Our intelligence has confirmed that Baker loves cheese and onion crisps.  He'll eat the whole bowl, if you let him.'
'Okay.'
'Michael.  Let him.'
'I will.'
Michael placed the bowl of crisps on the desk and then went over to his bag.  He pulled out the small flask and placed it in one of his desk drawers, out of sight.  He then tried to busy himself until his appointment with Baker, but he was far too distracted to get any work done.  He chewed his thumbnail and repeatedly glanced at the clock on the wall.  The minutes seemed to drag by with excruciating slowness, and as they did the gravity of what he was doing pressed down on him like a suffocating blanket.
When his office phone rang, Michael nearly jumped out of his chair.
Shakily, he picked up the receiver.
'Michael Kerrow speaking,' he said, trying to sound calm and professional.
It was Rebecca on Reception.
'Mister Kerrow, there is a Dr Raymond Baker here to see you.'
Michael swallowed hard.  His throat felt dry and unpleasant.
This was it.
'Thank you, Rebecca.  Please show him up.'
If the wait for the appointment had been torturous, it was nothing compared to the time in between Michael asking Baker to be shown to his office and him arriving.  It seemed to take forever.  Michael's mind was racing.  He contemplated running out of the building and not going through with it.  He thought of trying to warn Baker instead.  He attempted to steady himself by placing a hand on the edge of his desk and gripping hard.  He focussed on his breathing and thought of the people who were going to die if Baker was allowed to move forward with the idea that he would be bringing to Michael in mere moments.
Innocent lives.
Lives he could save.
There was a knock at the door.
Rising on legs that felt like they were made of lead, Michael walked to the door and opened it.  Before him stood a short man with thinning hair and glasses; a benign smile on his face.
It was Dr Baker.
'Michael Kerrow?' asked Dr Baker.
'Yes.'  Michael's mouth felt heavy and stupid; as if it were full of mud.
'I'm Raymond Baker.  I have an appointment.'
'Please, come in.'
Michael could feel that he was sweating now.  Dr Baker walked into the office and took a seat.  Michael made his way back to his desk and sat down.  Those few steps seemed to take an age.
'Can I get you anything?' asked Michael, his insides writhing horribly.
'No, thank you.'
Damn!
'So, how can I help you?'  Michael felt almost ridiculous putting on this façade of normalcy and professionalism when he knew what he was about to do.  On the outside he was doing everything he could to maintain the impression of the normal Michael Kerrow, but on the inside he was screaming at himself.
Liar!
Murderer!
Michael shifted position in his chair and tried to maintain focus.
'I've come to discuss the possibility for funding for a pharmaceutical project that I'm involved with,' said Dr Baker; all enthusiasm and promise.
'Oh?  Can you tell me about this project, please?'
'Certainly.'
Dr Baker reached to the floor and brought up the leather portfolio that he had with him.  He placed it on the desk; Michael watching him like a hawk.  As he unzipped the portfolio, Michael thought he saw Baker's eyes dart quickly to the bowl of crisps on the desk.
Go on, he thought.  Take one.
But he didn't.
Baker's presentation on what would eventually become MindSet sailed right over Michael's head.  He tried to pay attention, but his mind was thrumming with tension.  He continued to watch Dr Baker as he spoke, and as the presentation wore on he definitely saw Baker eyeing the crisps from time to time.
It was his only chance.
Michael waited for Dr Baker to finish speaking before reaching over and taking one of the crisps and popping it into his mouth.  It tasted bland and dry in his mouth as he crunched, but in taking a crisp he had drawn more of Baker's attention to the bowl.  Dr Baker looked up and caught Michael's gaze.
'Please, help yourself,' said Michael, indicating the bowl.
'Thank you, don't mind if I do.'  Dr Baker took a crisp from the bowl and began eating it.
Yes!
'Hmmm, cheese and onion,' said Baker happily.  'My favourite.'
'Mine too,' lied Michael.
Liar!
Killer!
The conversation continued, with Baker growing more and more passionate about the potential for his project, and Michael doing his best to keep the doctor talking so the topic of a drink could be brought up again.  Luckily, the voice's intelligence had been right.  After Baker had that first crisp his gaze returned to the bowl a lot more.
Got you, thought Michael, and then instantly felt awful for it.
'Do you mind if I have another?' asked Dr Baker.
'By all means,' said Michael.  'I'm not as hungry as I thought I'd be.'
'Thank you.'  This time, Baker pulled out a few crisps from the bowl and ate them with no small amount of satisfaction.  Michael continued to use every trick he had learned to lengthen the conversation.  After a while, the bowl sat empty on his desk.
'Can I get you something to wash those down with, doctor?' asked Michael with a faux innocence that nearly made him sick.
'Yes please,' said Baker, smiling.  'I'm sorry for polishing them all off.'
'Quite alright,' said Michael.  'I'll just be a minute.'
Michael pulled open the drawer in his desk and pulled out the flask.  As he rose to leave his desk his heart froze as he saw Dr Baker looking at him.
He'd seen the flask!
Dr Baker looked at Michael questioningly.
Quick!  Think of something!
'Erm…I always bring my own water to work to make drinks,' said Michael, trying desperately to keep the rising panic out of his voice.  'The water we get here is too hard for my tastes.'
Dr Baker continued to look at Michael for what seemed like an eternity.
He knows!
He sees through you!
Sees through your lies!
'I see.'  Baker went back to putting his papers into his portfolio, and Michael could feel his legs weaken underneath him.  He held on to the edge of his desk to stop himself from stumbling, and he made his way over to the corner of his office where the kettle and cups stood on a cupboard.
'Tea or coffee?' asked Michael.  He could feel the sweat clinging to his shirt.  If this went on much longer Baker might start to grow suspicious.
'Tea, please.'
Michael turned his back on Baker so that he couldn't see what he was doing.  Fortunately, the doctor had brought quite a few papers with him, and he was busy putting them back in order.  Michael made the drinks and felt a deep, plunging sensation in the pit of his stomach as he unscrewed the flask and added the contents to Dr Baker's drink.
Please forgive me for this, Michael thought to himself.
Murderer!
He took the drinks back to the desk and placed the now poisoned cup of tea in front of Dr Baker, who took it gratefully.
'So, what do you think of my proposal?' asked the doctor.
'I think it sounds very interesting,' said Michael, before taking a sip of his tea, hoping that this would urge Baker to do the same.
'Excellent!'
Come on, drink!
Baker raised the cup to his lips.
Come on!
'Will I be able to count on you for the funding, then?'
The cup was lowered slightly.
No!
Michael put his own cup down to avoid it falling out of his hands.  He felt as if his whole body was trembling uncontrollably.  He took a steadying breath before speaking again.
'I think we'll be able to work together,' he said, finally.
'Oh that's wonderful!' said Dr Baker, sounding delighted.
He raised his cup again.
'To the future,' he said, proposing a toast of sorts.
'The future,' said Michael, feeling wretched.
Dr Baker smiled and took a generous swig of his drink.
He placed the cup back on the desk and Michael sat there, rigid and pale faced.
'Are you alright, Michael?' asked Baker.
'What?  Oh yes, yes.  Fine.'  Michael wanted to break down and cry until his throat burned.
'You seem a little…'
Dr Baker's words were cut short and replaced by a strangulated sound that emanated from him like the gargle of a blocked drain.  The doctor's expression changed from mild concern to wide-eyed shock and fear in a matter of seconds.  His eyes bulged as he looked pleadingly at Michael, his hands clawing at his throat.
'I'm sorry,' said Michael, in a small, weak voice.  He looked into the terror-struck eyes of Raymond Baker as they gazed their last on the world.
'I really am sorry.'
Dr Baker didn't hear this last wretched apology.
Dr Baker was dead.