Voice (Part 5 of 5)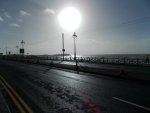 Sun, 31 May 2015
Michael stared in stunned silence as the doctor's body stiffened and then tumbled out of the chair like a rag doll.  The thud of his lifeless body hitting the carpeted floor sounded like a death knell in Michael's ears.
He had done it.
How could he have done it?
How could you have done it?
Michael?
'Michael?!'
The world suddenly felt strange and alien.  Edges lost their definition and seemed blurry and out of focus.  Michael shook his head and screwed up his eyes.  Something was pulling at his attention: a noise.
No.  Not a noise.
A voice.
'Michael!  What have you done?'
What had he done?
Michael blinked several times in rapid succession, and as he did so the scene in front of him changed.  Where Dr Baker's body had lain there were now several bodies, and there was a lot of blood.
An awful lot of blood.
A woman's scream pierced through the fog in Michael's head for just long enough for him to focus.  He looked around and thought, dully, that he wasn't in his office.
Where was he?
And who were all these people?
And why were they all shouting?
'Quick!  Someone call the Police!'
'Get an ambulance!'
'Hold him down!'
Michael suddenly felt hands on him; rough hands; hands that had no kindness to them.  He felt his arms being pulled from his sides.  He caught sight of his palms before they were jerked out of view.
They were covered in blood.
As Michael was manhandled to the floor, he heard laughing.
Who on earth was laughing?
'Get him out of here!' came a gruff voice from somewhere above him.  Michael felt himself being dragged to his feet.  The room was full of people he didn't know, including the bodies strewn on the blood-streaked floor.  Their expressions were of anger, fear and revulsion.
And still someone was laughing.
To one side a mirror hung askew on the wall; cracked and smeared with a bloody handprint.  Michael locked eyes with the source of the laughter.
It was him.
He was laughing.
Just like the others.
He was laughing.
Michael Kerrow was led away from the scene.  As he shambled out of the room his feet kicked their way through the detritus that peppered the floor.  One of the many items was a small cylindrical medicine bottle.  It rolled in a lopsided circle and came to a stop with its label facing up.
The label said MindSet, and the prescription was made out to one Michael Kerrow.