My Piggy Bank (Saving IP)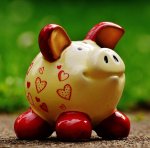 Fri, 02 Feb 2018
I tried to break my piggy bank
for all the coins inside
but then I saw it oink, "No thanks"
and run away to hide.
It hid away but I could hear
my shillings, pence and pounds
for every time it shook with fear
they made a rattling sound.
I finally found it underneath
a pillow on my bed.
"I've got you now you piggy thief.
Come out at once", I said.
But then I saw the porcine tears
pour from its porcelain eyes
and after that I could not bear
to smash that little guy.
Instead, a very bright idea
came to me in a flash
how I could both, that piggy, spare
and get back all my cash.
Now he is a big busking star.
Folks pay to hear our songs
'cause when I play on my guitar
piggy rattles along.