Last Morning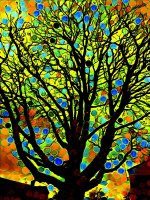 Thu, 10 Jun 2021
You did not know the beginning. 
Sleep drunk you staggered. I tugged
at your crumpled pyjamas,
shoved you to come and look.
I dragged you barefoot onto the wet grass, 
my white nightdress catching the dew. 
This morning had been lying in wait
just for us. Sun had turned honey suckle
flowers to gold, changed colours from red 
to orange, yellow to silver, had sprinkled preciousness
in abundance. Birdsong was painting the silence. 
Luminosity rose sweetly with lambs bleating.
I grew eagerly a love tree throughout your delight. 
We held each other letting feelings root 
there and then, senses branching out
for the peaceful light, the stillness of the air. 
We bloomed, we bloomed
opening scented spring flowers all over! – 
Caught by the light
a blue empty chair on the grass. 
Counterpoint to happiness. I felt the blues.
you knew the end -