Moon child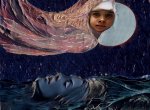 Thu, 12 Sep 2019
I was living in deep darkness
during my teenage years, 
with my soul in chaos in a newly
formed ocean of mud, 
the light hidden behind clouds.
I had knowledge without love,
embraced the wind without
precaution. I knew nothing
about contraception.
I became pregnant by the moon.
Abortion was good neither
for body or spirit, the minute
I had taken my clothes off,
the wind blew them away
and left me naked in the moonlight. 
I had knowledge of the moon
and my child was born.
I named her Tsukiko.
I brought her into the world
in the true light.
* meaning of Japanese name Tsukiko : moon child