Moonstruck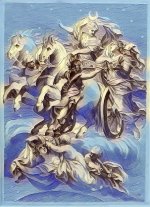 Thu, 12 Sep 2019
Green waters lapping in eternal sound 
engulfed a bay of moonlit tranquil shore.
A soft warm wind scattered the scudding clouds,
turned playfully and mockingly to hound
the moon, exposing Selene's body more and more
as moonlight was the silk gown Selene wore. 
Her strong white hands were holding back the reins
to pull Poseidon's horses and restrain
the lashing tide, the flashing white of manes,
the galloping of waves in her domain.
And yet in crashing splendour they would die
 and sigh as they retreat to sink beneath
 receptive sands as smooth as velvet fleece
 leaving a shimmering circle, like an eye.
The beauty and the wildness of the sphere
disturbs my thoughts, so calm before and clear; 
when distances perturbed, and out of order
all seeps into my sleep, where on and on it seems
the waters break and crash against the border
of many shaken and disturbing dreams.