Upside down world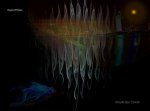 Sun, 18 Feb 2018
Where justice walks sedated
and the cries of the children
are no longer heard.
Where the air has lost its purity
and we breathe in and out
Gamma rays.
Where ignorant voices
of momentary celebrities
count more than those
of the healers and helpers.
Where animals are dying faster
than an eye can blink
and robots are given lifelines.
Where skies intensify
with invisible rays
and clouds are laden
with toxic metals.