Insomniac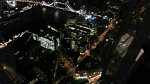 Thu, 13 Feb 2014
Night time in the city
The tribes are abroad, chanting, marauding, maligning.
Smokers are in doorways in solitary quietude
Amid the voluble certainty of drunks.
The street is lit
The shop still serves.
The doors to the hotel are open.
Gone the modernistas who roam the gallery by day
Now the homeless and hopeless colonise by night.
Cabs patrol the roads, stopping to chug.
Heat simmers up to high rise rooms
Noise bouncing from wall to wall follows like a burglar
A cacophony of clanking marks supermarket deliveries
Against the rhythm of distant traffic.
Minutes go by without sound
Precious time
Then a whistle, women shout.
Tobacco smoke creeps through the windows
Clatter. Bang. Rumble.
The supermarket is refilled
Light comes sudden and unexpected.
Morning breaks on the city
Lorries speed, bin contents crunch
Trains screech and squeal.
Footsteps quicken with intent
Bacon smells vaporise
There is no sleep
The city is always wide awake.