Ghosts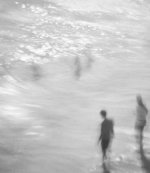 Thu, 06 Mar 2014
I keep seeing these ghosts.
What would they think of me now?  Of what I'm doing? Of this whole world I inhabit?
It scares me to think.
Alan.  Ex-Tottenham Hotspur, York City and milkman.  Chain-smoking Embassy Regal and the reason I've still got a pair of lungs at 52.  Ran me around Rawcliffe from the age of 14 and the driving reason for me leaving my job for life at 29.
Derek.  Walked off to a war in 1940 with his foreman's voice ringing in his ears "You won't have a job to come back to."  Reserved occupation cowards.  Derek went and fought his war then came back and gave it to the foreman.  Became one himself, with acres of stories to tell.  Thank you Derek.
My Nana.  How I wish I knew you now.  How I wish I hadn't given you such a hard time as a stupid teenager. You tried so hard to keep peace as my mam worked the evening shift.  Too late, I learned you might have been the kindest person I've ever known.  A woman who survived tragedy and was the prototype for every strong woman alive today.  The woman in me.
My great-uncle Jack.  So ordinary. So you and me.  So young and so dead under a bullshit slab in France.  Under acres of bullshit, still.  A few more weeks and you'd have been home and dry.  Spare me the centenary.  Why do I identify with you so strongly out of all the others?  Oh, Nana, I'm so sorry.
The shadow that walked through the kitchen.  The keys that turned in the door in Whetstone.  I don't believe in any of it.  But both these things happened.  We were there, weren't we? (You know who I mean)
Lord, I pray for the souls of the dead.  I pray for us all.