Coldplay wordplay wedding day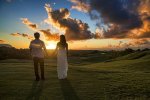 Sun, 06 Apr 2014
Light breaks between late summer green
of overhanging, heavy laden branches of the surrounding trees.
You walk, your hand in his, sun creating white shadows that sparkle and glisten,
don't panic just listen,
the music plays for you and only you two.
There is a smile upon your face
and he leans over, a whisper
that nobody else need hear.
There is no fear
because you know he is the one you've been waiting for.
Sun beats, yellow, on your skin
and those surrounding branches shiver in the beautiful,
early evening wind, and in their shiver you can hear them sing.
You are no longer lost,
evening turns to night and stars light your onward path,
your hands never part, for you have both waited all these years
and now together you walk on, walk on.
He is atlas and you are his world
and it is magic.