100 Years....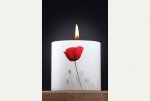 Mon, 04 Aug 2014
When new year struck midnight
1914,I expect there were resolutions
You knew would be broken and
High spirits for what this fresh
Year ahead would bring.
So when you stood upright
Ready to fight, in a war you
Never thought you would
Even be in,that night long ago
Must of seemed a dream and
What was happening unreal.
What had started as a small,
Local problem in the Balkans
Would turn into the biggest
And most brutal war the world
Had ever seen.
And whether the decision to go
To war, came from the treaty of
London 1839,a promise to Belgium
From England to help defend its
Neighbors at all cost.
Or because Britain felt that no
One country should become
Completely dominant.One thing
Is certain, millions lost their lives
And left grieving wives.
No few lines can ever express
The love, gratitude, respect
We feel for you,100 years on.
Nothing we say or do,can change
Your pain,heartache,fear,tears
Or resurrect you from those
Gruesome blood walls you fell beneath.
We can only imagine what you went
Through leaving our safe,calm familiar
Shores, to wonder into a unknown,
Unfriendly, mouth of predators.
So when we turn out the lights
On this Monday night,and burn
A candle for you,our eyes
May fill with sadness.But Our
Hearts will smile with Proudness,